Have you ever been caught in a meeting that seems to drag on forever, with no clear goal or end? It's probably happened to all of us, right? It's a common situation in the business world. But what if I could tell you that not all meetings are the same? Certain ones can boost your team's productivity, while others are just time-wasters.
In this article, we'll get to the bottom of effective team collaboration by finding out which types of meetings are important to the success of your business and which ones you can safely do without.
Necessary meetings: the cornerstones of productivity
1. onboarding meetings: the starting signal for success
Imagine starting a new job and being thrown in at the deep end with no guidance. Discouraging, right? This is where onboarding meetings come in. These are the foundation for helping new employees find their way around the company. They provide a comprehensive understanding of the company structure, upcoming projects and the new employee's role in the big picture.
Erin Baker, an experienced leadership coach, stresses the importance of onboarding meetings: "They help new team members learn how they fit into the big picture." They also set expectations and lay the groundwork for successful tenure.
2. brainstorming meetings: the think tanks
Companies thrive on fresh ideas. But where should these ideas come from? This is where brainstorming sessions come into play. These are the real think tanks of your team and serve to collect a large number of ideas in a short time.
David Chaudron, an organizational psychologist, emphasizes the importance of brainstorming sessions, especially when it comes to solving a problem or achieving a goal. He recommends that brainstorming sessions focus on the ideas rather than the outcome.
3. kickoff meetings: the blueprint for alignment
Have you ever started a project without knowing the final destination? It's like you're embarking on a journey without a map. Kickoffs serve to align team members with the long-term goals of the project.
Chaudron highlights the effectiveness of kickoff meetings, explaining that they are critical to building team buy-in and enthusiasm for the project.
4. feedback and retrospective meetings: the learning curve
There are always lessons to be learned and improved. This is where meetings for feedback and retrospective come into play.
Baker points out that these give the team an opportunity to discuss what went well and what didn't go so well. They serve as a platform for continuous learning and improvement.
5. budget and finance meetings: the financial compass
Misunderstandings about finances can lead to tension and conflict. That's why budget and finance meetings are so important.
The importance of these stems from the fact that they help determine who pays for what and when. They ensure that everyone is on the same financial page to avoid future conflicts and control spending.
Unnecessary meetings: Time wasters to avoid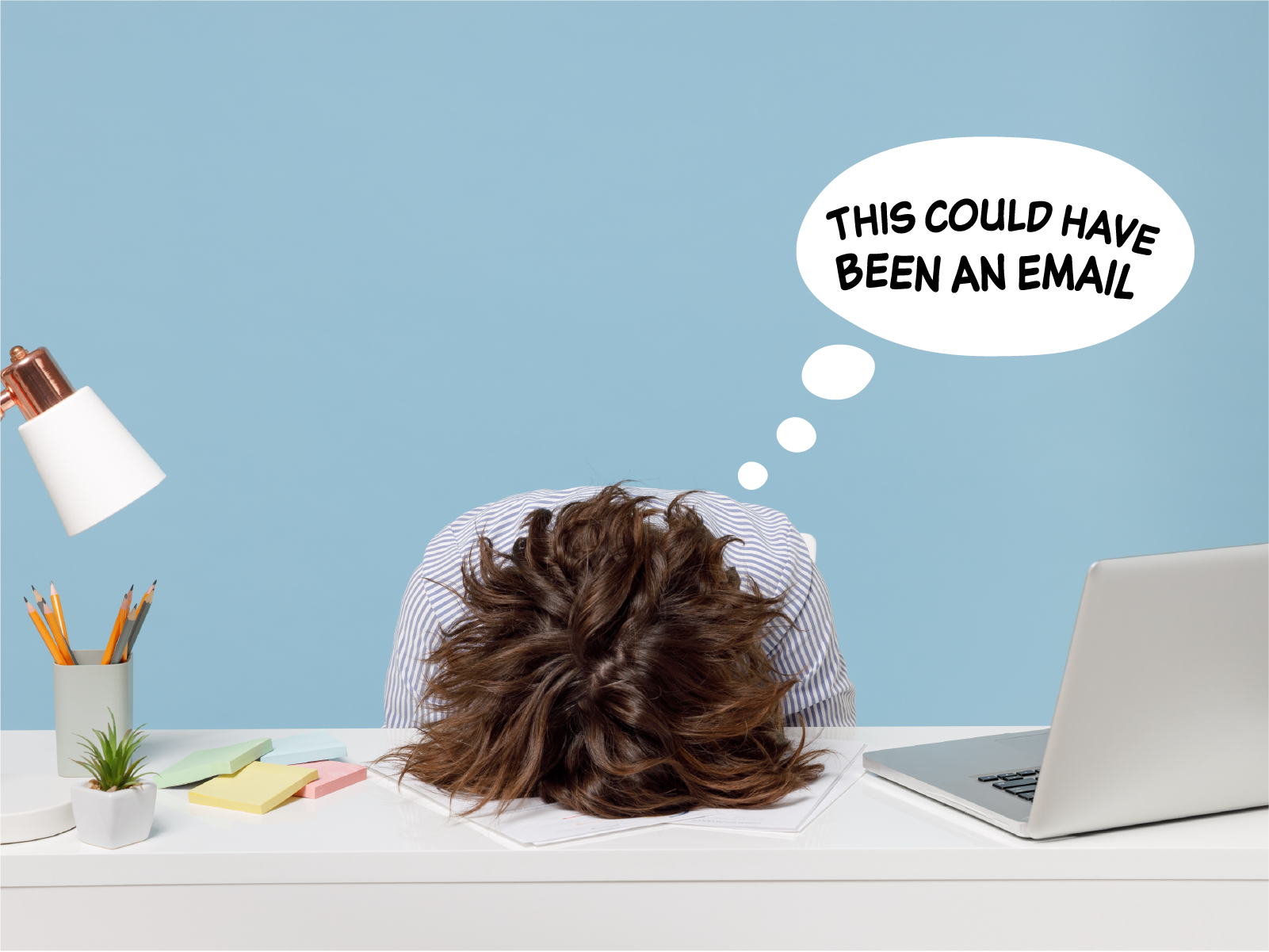 1. status update meetings: the time-eater trap
Do you need to gather all your employees in one room to let them know what they're working on? In the age of digital communication, meetings for status updates often seem like a relic of the past.
Erin Baker argues that these are ineffective and easily replaced by email or a collaboration tool like Confluence can be replaced. Why spend an hour in a meeting when a quick email will do?
2. meetings without agenda: the aimless journey
Have you ever attended a meeting that seemed to go by without a clear goal or direction? Meetings without a clear agenda are like setting sail without a compass - you're unlikely to reach your destination.
We have learned how important it is to have a clear agenda for each. Without it, you're just wasting your time and everyone else's.
3. standard face-to-face meetings: the old-school approach
When you think of a meeting, you automatically picture a group of people sitting around a conference table. While there's still a place for that, many of them don't necessarily have to be in person.
It may seem obvious in today's world, but virtual meetings are often more efficient and comprehensive than face-to-face ones. They save time, make meetings more accessible for home offices and hybrid approaches, and can even be recorded for later use. Zoom, MS Team and Slack are your best friends here. And when you connect your virtual sessions with collaboration tools like Confluence, you'll be up and running in no time.
Maximize meeting productivity with Confluence
In business, effective meetings are the be-all and end-all for successful teamwork. But how can we ensure that they are as productive as possible? The answer lies in using the right tools.
One such tool is Confluence, a powerful platform that lets you easily organize and summarize your meetings. Let's take a look at how Confluence can improve any type of important meeting and eliminate unnecessary meetings.
Planning with Confluence: During onboarding or brainstorming sessions, Confluence can outline the agenda, goals, and expected outcomes and ensure everyone is prepared.
Take notes in real time: During the meeting, Confluence can capture key points, ideas, and actions in real time so everyone is on the same page.
Learning from the past: During meetings for feedback and retrospectives, Confluence serves as a repository for past project experiences, enabling continuous improvement.
Financial transparency: Confluence helps track financial data and decisions in budget and finance meetings, ensuring transparency and minimizing conflicts.
Replace unnecessary meetings: By replacing status update meetings with Confluence updates, you can keep everyone in the loop without wasting valuable time.
Increase the productivity of your teams with Confluence
Make your team collaboration more efficient and productive with Confluence! Whether you're managing projects, sharing ideas, recording meetings, or planning the next big thing, Confluence is the platform for optimal collaboration.
Meetical: A Confluence app that helps you organize your meetings and increase productivity
Another way to take meetings to a new level is Meetical. It helps you increase productivity in your teams.
Meetical lets you automatically create Confluence pages for one-time or recurring calendar events.
These can serve as a central location for notes and are accessible to all participants via the Meetical browser extension or the event description in the calendar.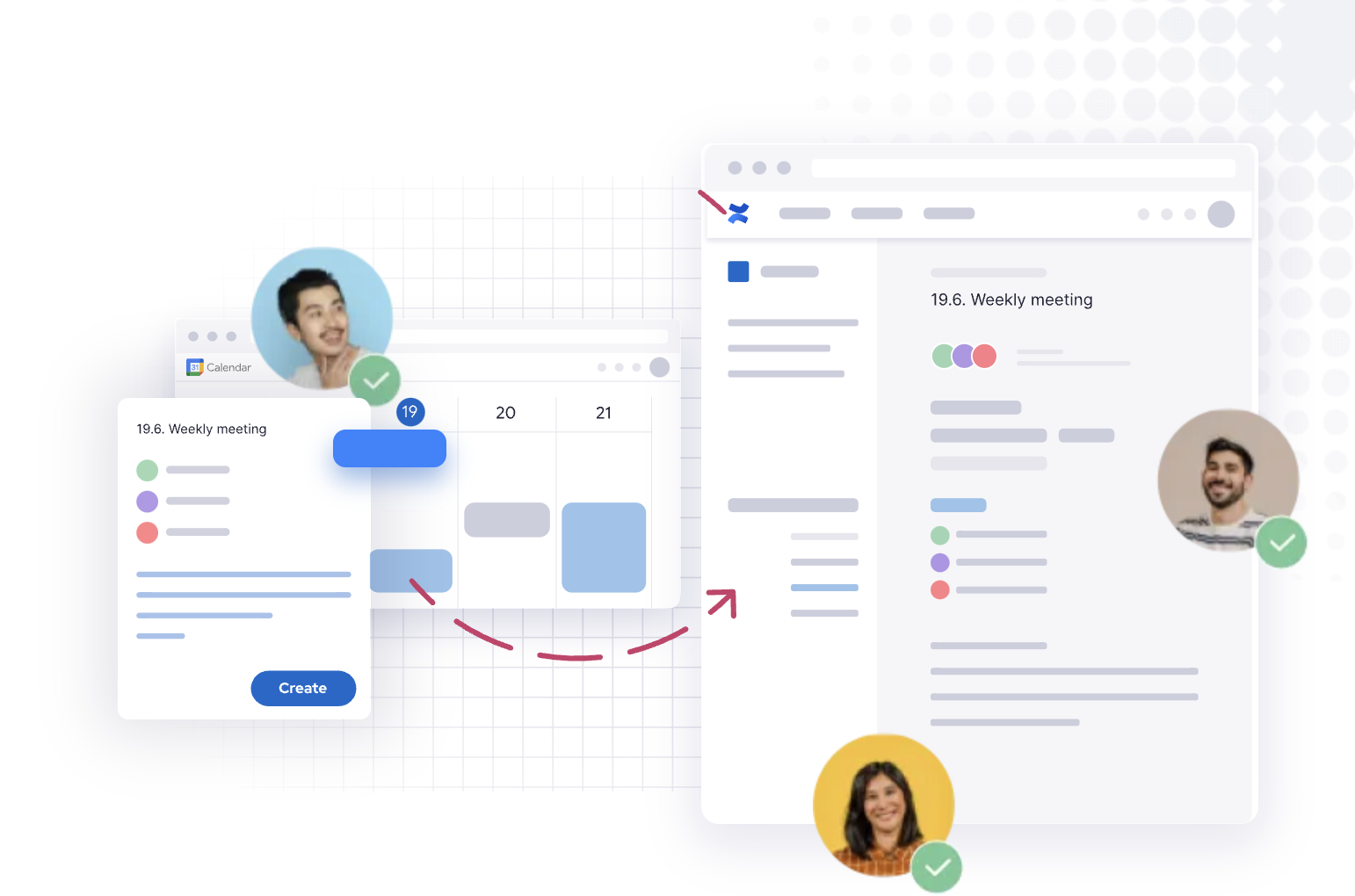 Confluence pages as browser popup
The extension can also be used to display and edit Confluence pages as a browser popup without leaving the current page. In addition, the extension also displays action items and recently viewed pages.
Templates for meeting notes
Meetical also scores with many templates for your meeting notes. These can be customized in advance and selected for newly created meetings. There are templates for many use cases like brainstorming or kickoff meetings.
Automatically add participants
In addition, the app offers several macros that automatically add all participants to the page, customize the page title and capture the necessary information about time and place.
Meetical can be added to the respective Confluence instance via the Atlassian Marketplace.
Integrations for Google and Microsoft
Fellow.app for Google Meet: Streamline meeting agendas and notes
Fellow.app for Google Meet is a powerful integration that enhances your meeting experience and productivity. With Fellow.app, you can seamlessly create agendas, capture notes, and collaborate with your team during Google Meet sessions. With this integration, you'll have all your meeting information in one place so you can easily organize and reference it later.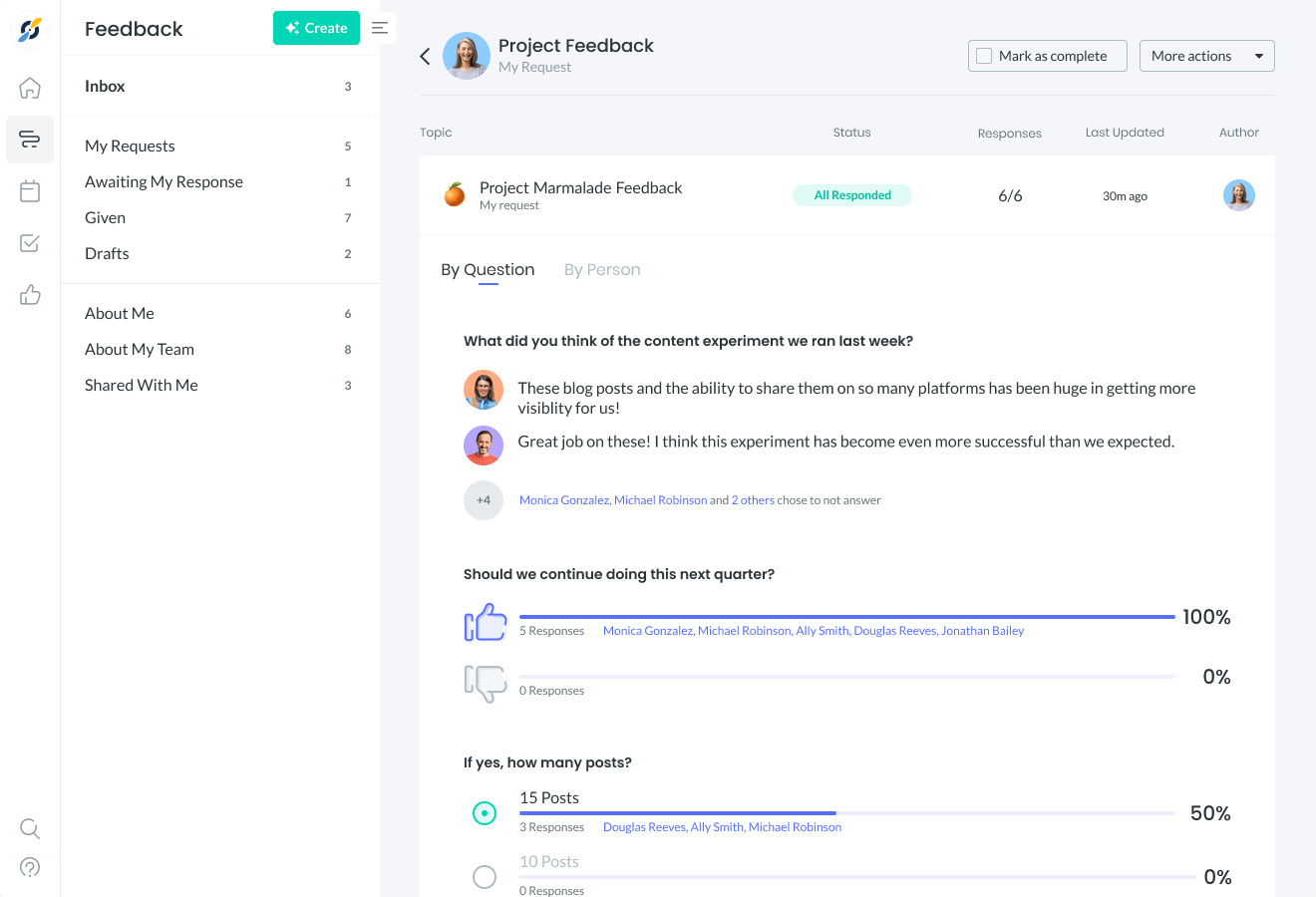 Create structured agendas
With Fellow.app, you can create structured agendas to ensure everyone is on the same page and focused on the issues. You can take notes during the real-time meeting and mark action items for follow-up. Fellow.app also offers collaborative note-taking features, so multiple participants can contribute to notes at the same time.
Integration with Google Calendar
One of the outstanding features of Fellow.app is its integration with Google Calendar. The details and attendees are automatically applied, making it effortless to create agendas and notes. After the meeting, you can easily share meeting minutes and action items with all participants. The integration also provides analytics and insights to help you track productivity and identify areas for improvement.
Tactiq for Microsoft Teams: Effortless meeting protocols and collaboration
Tactiq for Microsoft Teams, on the other hand, is a game changer for note-taking in Teams meetings. This integration seamlessly integrates with Microsoft Teams and allows you to effortlessly capture and store transcripts and notes. Tactiq provides a centralized platform where participants can access and collaborate on their notes, ensuring that no important information is lost.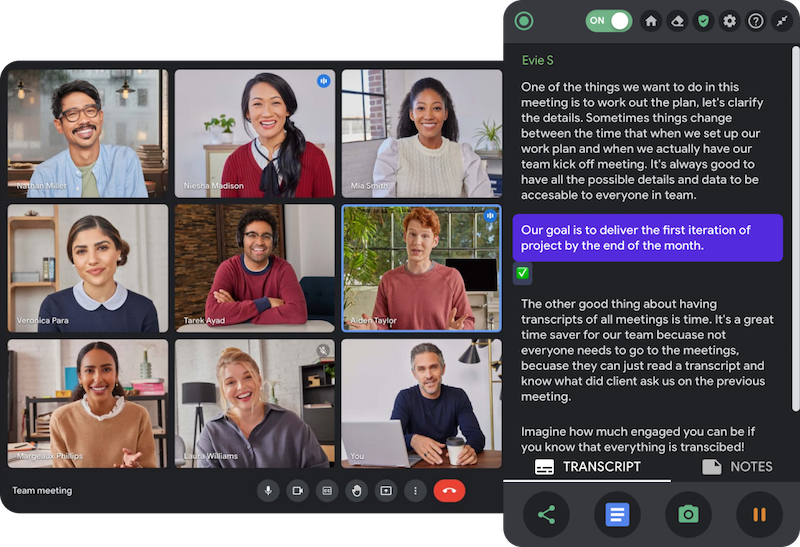 Record meetings automatically
With Tactiq, you can automatically record and transcribe your meetings so you don't have to take notes anymore. The transcripts are time-stamped so you can easily navigate to specific sections of the meeting. You can also highlight important moments, add notes, and mark action items directly in the transcripts.
Collaboration in real time
Tactiq's intuitive user interface enables real-time collaboration, allowing multiple team members to contribute to notes simultaneously. This fosters a collaborative environment where everyone can contribute their insights and ideas. The integration also provides note exporting and sharing capabilities to keep everyone in the loop.
Integration with Microsoft Tools
Tactiq also integrates seamlessly with other Microsoft applications such as OneNote and SharePoint, making it easy to store and access notes across different platforms. Powerful search capabilities make it easy to find specific information in notes.
Increase your meeting productivity with integrations
In summary, Meetical, Fellow.app for Google Meet, and Tactiq for Microsoft Teams offer valuable features that enhance your experience. They simplify note-taking, provide collaboration opportunities, and ensure that meeting information is organized and accessible. Whether you use Confluence, Google Meet, or Microsoft Teams, these integrations can significantly increase your productivity and help you get the most out of your meetings.
Conclusion: Revolutionizing your meeting culture
The secret to effective team collaboration is not in the number of meetings, but in their quality and relevance. The ability to recognize and leverage the value of different types of meetings, such as onboarding, brainstorming, kickoff, feedback and finance meetings, can significantly increase a team's productivity. It is equally important to avoid unnecessary meetings such as aimless meetings with no agenda and those that could be more efficiently conducted virtually.
However, awareness of which meetings to hold and which to avoid is only the first step. The real art is putting that knowledge into practice to best manage the team. From improving the onboarding process to fostering creativity in brainstorming sessions and ensuring clear agendas and goals, it's up to you to establish an effective meeting culture. After all, at their core, meetings are meant to bring the team together, generate innovative ideas, align efforts toward common goals, and ultimately drive business success.