Let's build outstanding Atlassian and DevOps solutions, together
Work with us on exciting projects and solutions for current, important IT questions in the areas of Atlassian, DevOps and Cloud technologies.
Be yourself at what you do
We strive to be the change we want to see in a modern workplace. Our goal is to operate in such an inclusive way that you can be your true and authentic self at work every day and feel comfortable doing so.
We build the job around your person
We accompany your personal career path and support you financially and morally. You have the opportunity to play a significant role in shaping the path of XALT.
We think outside the box
With us you have a safe environment to break the rules and make mistakes. Are you passionate about a topic? Become an ambassador for your ideas.
We are always transparent
Hierarchies and hardened structures? You won't find that with us. We disclose all our processes and are always open to new ideas and impulses.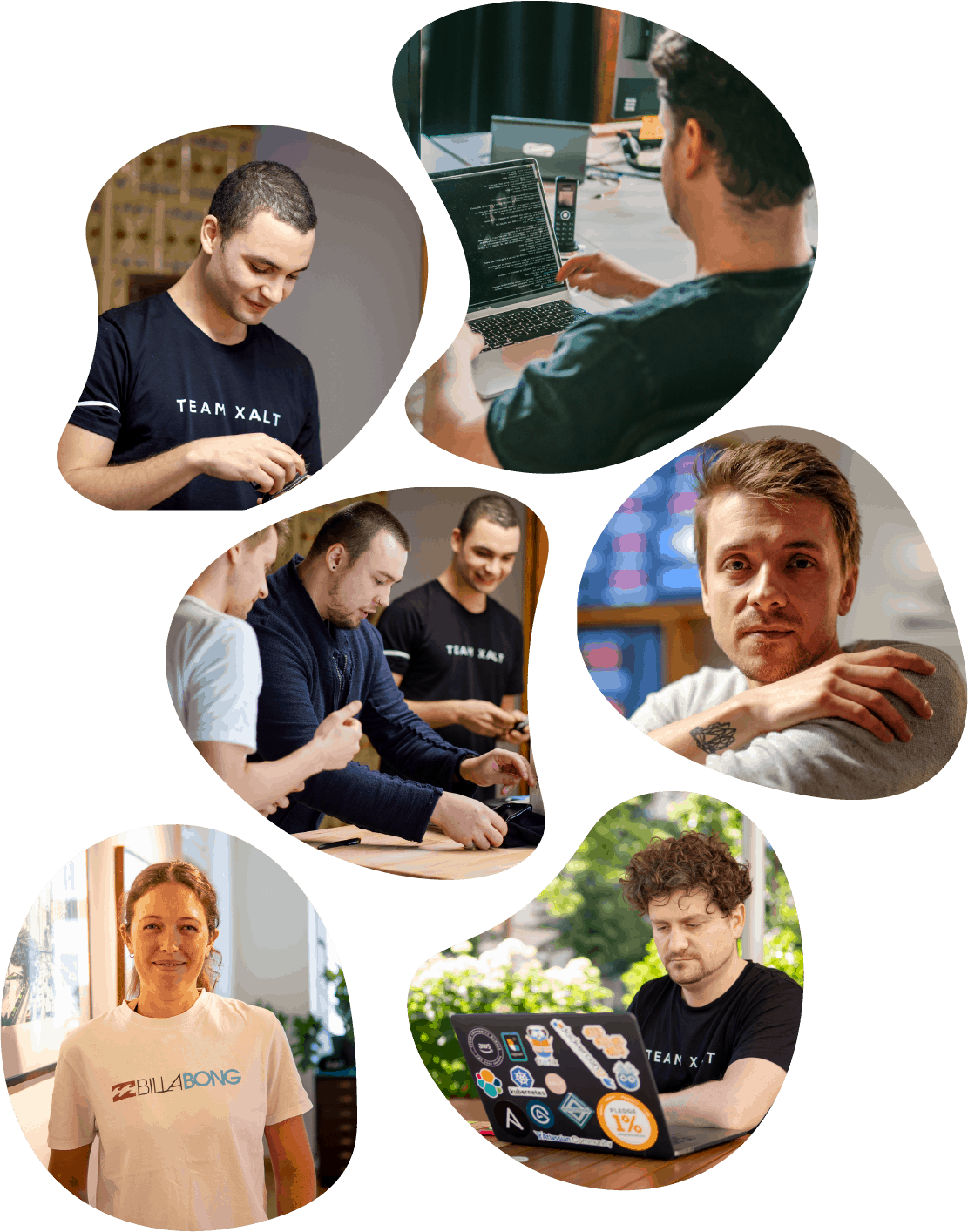 The electrician is coming by or maybe you're waiting for an important delivery? You feel most comfortable in your personal Home Office? With us, you decide when and where you work. Work when you have energy, not when the clock says it's time. Unless the clock strikes customer meeting ;) .
And we don't just mean software. We don't just want you to work like a machine (although we are big believers in automation). We offer you an environment where you can bring in your own creative ideas, work on personal projects and develop as a personality.
"Bring your own device" and the best tech
Regardless if you're a Linux-Nerd, Mac-evangelist, Windows or Chromebook user: YOU choose the tools which work best for you. Bring your own laptop with you or select one of our devices. You want a new Notebook? No problem, we've got you covered.
Modern offices in Munich and Leipzig
With our offices we offer you a space where you can realize your own projects and ideas, no matter if it's a creative or more crafty project (Maker Space in the making). Free Mate Tea, fruit (and raspberries), coffee and white sausage breakfasts (vegan, of course) included. We are from Munich and love the city. Let the team show you the best places in and around the city. We haven't been in Leipzig very long, but we still know what makes the city special. Just ask the team and get to know Leipzig! We'll help you feel at home, no matter what city you're in.
Can't find the right job?
Send us an unsolicited application and we will find a suitable role for you based on your experience and background. And if there's nothing available at the moment, we'll keep you in mind for future jobs!
Send your application
Our recruiting team will review your documents and contact you within a few days to let you know whether or not we will proceed with your application.
Telephone interview with the recruiter
Our recruiter will then take the time to learn more about you and answer any open questions. We invite you here to a first virtual meeting.
Assessment
If necessary, you will be given a small task and a few days to complete it. Some of our jobs have tasks like that so that you can get a better picture of the work and we can learn even more about you.
Interview with the team
You will have a personal interview with one of our senior managers or consultants, in which you will learn more about the work and they can assess your skills and interest. Here we will also give you direct personal feedback on the cultural and professional fit.
Get to know us personally
Afterwards, we invite you to a final, personal meeting at our office in Munich or Leipzig.
Decision
If everything fits, you will receive an offer or further feedback from us.
We love our work at XALT and we believe you will too.
Become part of the team and apply with us today!