Are you currently considering digitizing and automating the processes of your sales teams? But you're not sure why or how to go about it? Then ask yourself if this scenario sounds familiar to you:
Someone finds an interesting product online, has a question about getting started or about pricing, and sends the company an inquiry. At this point, it happens all too often that the question is not followed up by an answer.
It seems relatively easy to send a customer or prospect a response to their inquiry. But it often happens, especially with SMEs, that inquiries get lost.
This article explains how we have automated and digitized our sales process with Jira.
Status quo before the automation
We also had to deal with exactly this challenge in our team.
Inquiries about our services and products accumulate through many different channels. These include contact inquiries via our homepage as well as via social media or by telephone.
After an extensive rebranding and search engine optimization of our homepage at the beginning of 2021, these inquiries as well as the interest in our services increased rapidly. While we had established internal responsibilities to create and manage an overview of incoming inquiries. However, due to the number of questions, our channels were overloaded, which meant that individual customer inquiries were lost and often answered weeks later.
Find out why you should digitize your business processes and what benefits you can expect here: Read the article.
Define goals together
As a team, we believe in offering the best possible service to interested prospects and potential customers. That's why we decided to fundamentally restructure and improve our process and implement it with Jira.
To implement our project, we defined 3 basic goals in advance, which we wanted to achieve with the Jira project:
Collect all requests from the different channels in one place (Kanban board) in order to be processed mutually by several team members.
Setting a deadline of 24h until the first contact occurs with a new contact or a new request. For this we have set a SLA of < 24h in the Jira project.
Reduce the manual workload via automations in Jira and automate certain intermediate steps. Since we currently don't have our own sales department, this is particularly important for us.
Using Jira to digitize a sales process
To achieve these goals, we needed an established, digitized sales process that could be easily automated. Jira offers numerous advantages for the implementation of sales processes. Jira makes it possible to integrate all content into one platform and one board. Teams can continue to work efficiently because all necessary customer information as well as information about the communication that took place is stored in the system and can be easily accessed.
In this article, we would like to show you what the concrete implementation with Jira as a basis for sales processes looks like and how we use Jira and workflows for our own sales process.
Jira is a versatile project management tool for departments such as finance, marketing, human resources, and sales. Sales managers can use Jira to channel incoming leads, send automated responses, track processes, or manage quotes.
In Jira, tasks and processes are managed via workflows. A workflow represents the steps of your process and the status that a task (here the request) goes through.
Managing existing and new customer inquiries becomes noticeably easier when you visualize your sales workflow and respond directly to questions about your products or services.
Learn more about Jira and our consulting services
Design of our sales process
At the beginning of our project, we created a conceptual workflow and the individual steps in the process.
The first steps to set up the workflow were:
Brainstorm about the different types of requests.
Evaluating the channels of which requests are coming in.
Detailed discussion, planning, and description of each step in our workflow for new requests.
To create a workflow that meets our requirements, our company's IT and business development experts pooled their content and knowledge. The result represents a flexible workflow with individual processes as well as intermediate steps and partially automated processes.
Even with the most precise planning, it will happen that further adjustments have to be made at a later point in time or additional optimization potential is discovered. This is where a major advantage of Jira comes into play: Changing workflows and automations is uncomplicated and quick, without having to adjust the entire project.
Creation of a Jira project
After defining your own workflow, it is time to integrate it into Jira. To do so, a new project must be created first.
To do this, click on Projects > Show all projects
Then click in the upper right corner on Create project
Select base project* >Enter the name and the project key.
We recommend using the base project template as it provides the best way to track, prioritize, and resolve requests.
Creating the Kanban board in Jira
Next click on Boards > Show all boards
And then in the upper right corner click on Create board
Select Canban board > Select board from an existing project.
Enter the name and select the project that was just created
After the board and project are created, click the Project Settings button to configure preferences such as automation, workflows, SLAs, and users and roles.
Digitization and automation in 6 steps
The following tasks and settings must be adjusted after the project and Kanban board have been created:
Automatic conversion of requests into tickets by linking the various channels
Creation of a workflow and the individual statuses
Defining the SLAs
Creation of automations for different process steps
Kanban board configuration including columns and swimlanes
Definition of responsibilities and notifications
This section provides a rough overview of how we implemented our sales process concept into Jira using workflows and automations. Due to the scope, the following points are only a small insight into the project. If you are interested, we would be happy to discuss the project in detail in a separate meeting.
1. Automatic conversion of requests into tickets
To begin with, it must be ensured that all incoming e-mails containing inquiries are automatically processed by the system. To achieve this, Jira needs to integrate the email system. This setting can be changed under Project Settings > Email Request . Make sure that…
you have the authorization to manage the project.
public registration or adding clients is enabled for your project to ensure that you receive new requests.
have your email channel enabled so that you can use your sales email address to create new requests.
have set up an appropriate request type and selected it, so that the requests created from emails are assigned this request type.
After the setup, the incoming requests are transferred and automatically converted into tickets. All requests are thus on one board, which enables the team to work together on these requests without having to keep an eye on the various inboxes.
2. Creation of a workflow as well as the individual statuses
Furthermore, a workflow must be created. For a flexible workflow, it is important to select a Software Simplified Workflow Scheme and to create a link between the individual statuses so that the status of each ticket in this workflow can be transferred to any other status. This creates high flexibility and ease of use. Using the Simplified Workflow, the contents in the Kanban board (including columns and statuses) can be changed at any time.
The workflow for the sales process can then be adapted to an individual, personalized workflow based on the requirements collected during the conceptual design phase. A sales workflow structure can look like the following: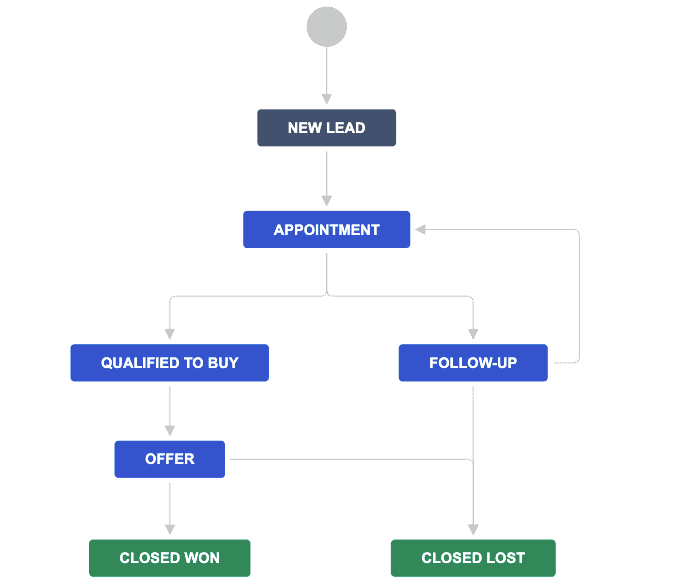 Defining the SLAs
Good customer service ensures that customers remain loyal to you. An important part of good customer service is responsiveness. With Jira, you can achieve good responsiveness and keep your sales team on track by setting SLAs on how quickly requests should be handled. We set the SLA in our workflow to 24h. If the SLA time remaining to review a request is <60 minutes, our assigned team members will be notified.
SLAs can track the following properties:
Respond to all inquiries within X hours.
Completion of high-priority requests within X hours.
Warning about the expiration of an SLA at X minutes before expiration.
Creation of automations for different process steps
In addition to SLAs, additional automations can be created. You can add "When" triggers, "If" conditions and "Then" actions. These parameters define the process and create the automation. For example, for the initial meeting with a new contact, we implemented the first step of our sales process with automations. Thus, a new contact receives an automated mail in advance that we have received his inquiry and are taking care of his request. The status of the request is changed from New to Confirmed.
Case Study - Digitized Sales Process
Fill out this form to download our case study for a digitized sales process.
Additional options for automations
As a next step, we would like to set a first meeting with the interested party to talk about their request and to present our services and way of cooperation. For this, a specific assignee from the team must be associated with the ticket. Furthermore, the ticket must be given either the label lead-de or lead-en.
If, for example, the user XY is set as assignee and the label lead-en is set, the contact will receive an automatic email from the user XY with his meeting link in English. To kick off this automation, the ticket in the Kanban board only needs to be dragged to the Schedule Appointment status field.
Example: Automation Rule
WHEN: status changed > IF: issue matches status = Schedule appointment AND assignee = User XY AND label = lead-en > THEN: send email = Template "Answering contact" AND transition issue = Waiting for appointment AND add comment = 'XALT Bot: Invitation to phone conversation sent'.
Other automations include simple acknowledgement of receipt, a reminder to the customer if there is no response within 72 hours, and an update of the ticket status to Appointment if the customer has signed up for a time slot via the meeting link.
Conclusion - Jira, automation and reporting
In our automated Jira project, we can now answer and process requests easily and flexibly. Due to our SLAs and the bundling of all requests on a project and Kanban board, no requests are lost anymore and we can provide a good service to all contacts. Through tracking and document management in Jira, it is still possible to easily provide all stakeholders with information about the customer, their interests, and relevant documents such as quotes or contracts.
Additional benefits of the implementation are Jira's extensive reporting feature, which gives us insight into how many requests have arrived at the board and how their process flow has taken place.
"Anything that can be digitized will be digitized." - Carly Fiorina, CEO of Hewlett-Packard
Our Best Practices
Our sales process works without an extensive sales team. There are two project owners who have the task of processing the existing requests and ensuring that none of them are lost. The workflow is designed flexible and open, so that consultants who want to process a request themselves have the opportunity to do so according to the workflow. For the various steps in the workflow, from the initial contact to the preparation of the offer, internal contacts with the necessary knowledge are also stored, which can be contacted in the event of a blocker.
In our internal projects, we always follow the philosophy of creating a holistic system consisting of the input of different stakeholders, which in turn creates output and value in different directions, such as customer service or marketing. For this very reason, we have kept our workflow flexible and merged different departments, such as Marketing and Sales, for the project. This ensures that different teams and groups in your company work together, creating synergy effects and team spirit.
Our marketing managers therefore also have access to the project and the Kanban board, which allows them to view the progress of a contact in our sales funnel. The marketing team can accordingly plan marketing activities and provide contacts with further, informative and relevant information about their request.
Vision and outlook
If you think one step further, you could also include Operations personnel and when the status reaches the Offer column, an email is automatically sent to Operations with all the necessary information.
The created quote is sent and the status on the Kanban board is moved to the Closed Won or Closed Lost column depending on whether the quote is accepted or rejected. This again activates an SLA that sends an internal reminder to Operations after 14 days, for example, to check payment receipts.
Case Study - Digitized Sales Process
Fill out this form to download our case study for a digitized sales process.