Christmas is the time of joy, happiness, and love. It brings people together and provides the perfect opportunity to review the past year, which is especially important in today's turbulent times.
That is why we were even more excited about the Atlassian Community XMAS Party. Atlassian experts from all over Germany pulled out their Christmas sweaters and met to exchange ideas, to connect and, of course, to have a great time together.
The event kicked off with the participants introducing themselves and getting to know each other. This was followed by a Christmas story about the latest news from the Atlassian Community, which got everyone in a Christmas mood.
Also the participants were in the spotlight: At the Ugly Christmas Sweater Contest, they had to prove their fashion sense. The 3 most original sweaters even won a special prize.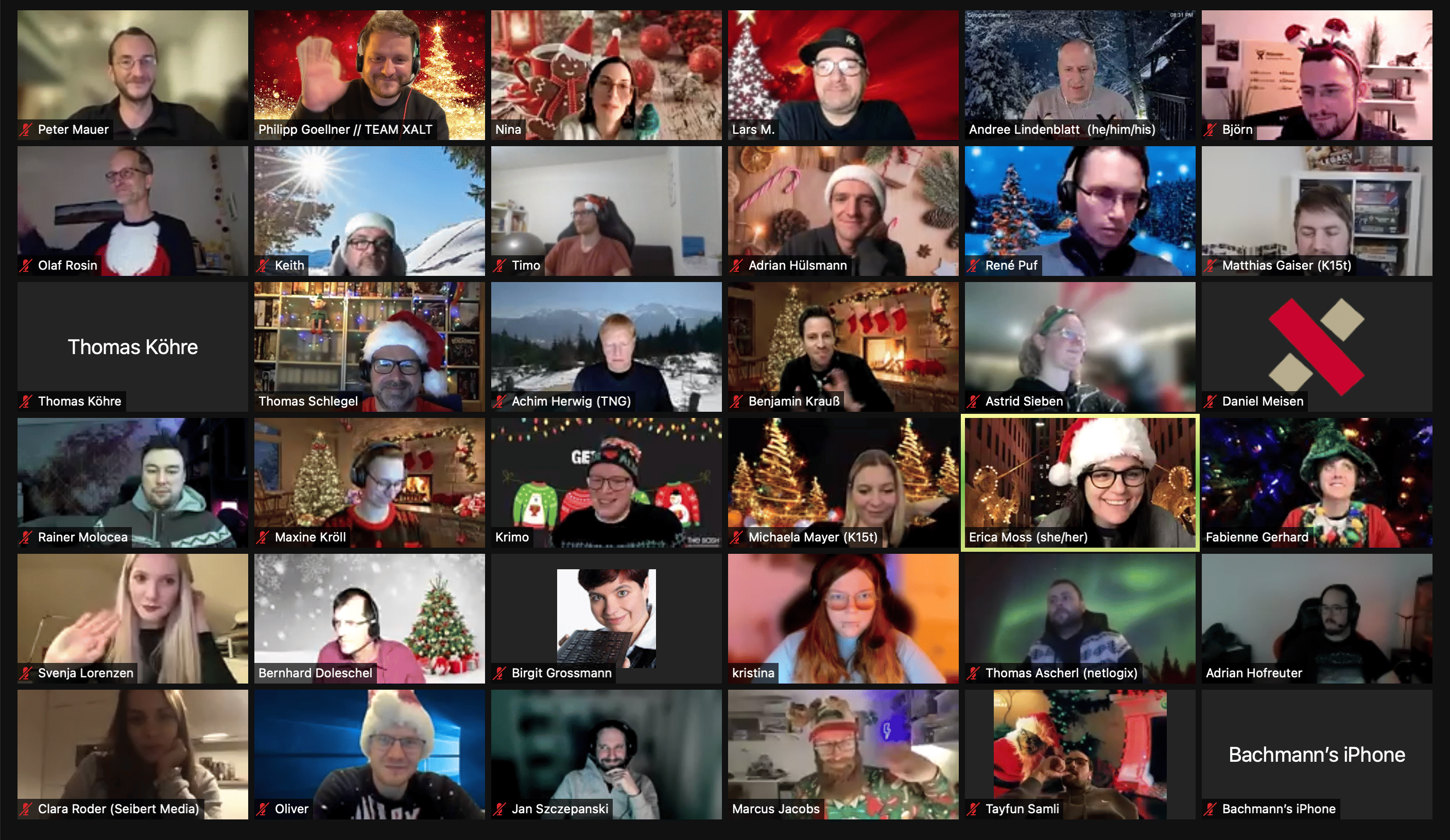 Since Christmas is also a time for giving, all participants received a small gift from the sponsors.
Many thanks for the great presents to Atlassian, K15t, //SEIBERT/MEDIA, catworkx, kreuzwerker, STAGIL, Communardo, netlogix, Jodocus, Scandio and yasoon. Of course, there was also some swag to catch from us at XALT.
Last but not least, we ended the evening together with a stroll through the virtual Christmas market. This was a great opportunity to get to know each other better and to talk and exchange stories with each other.
Thanks to the Atlassian communities from Munich, Cologne, Nuremberg and Hamburg. An extra shoutout to the organizers and presenters: Nina Schmidt, Fabienne Gerhard, Krimo Khermane, Maxine Kröll, Andree Lindenblatt, Lars Mählmann and Thomas Schlegel, thank you for planning this beautiful evening!
Although the event was completely remote, we had a lot of fun with all of you. It was great to meet so many members of the Atlassian community from all over Germany.
We are happy to be part of this amazing community and are looking forward to more awesome events next year!