The Atlassian community recently met at the High Velocity event in Sydney. At the event, Atlassian leaders presented groundbreaking new features in Jira Service Management (JSM) and announced new collaborations. JSM customers gave insights into how they use the Atlassian platform in their business, underlining how Atlassian is revolutionizing service management. The overarching motto was: End bad service management.
In this article, we give you an overview of the most exciting news and new features in Jira Service Management.
The most important news & new features at a glance
New cooperation:
New cooperation with Airtrack enables comprehensive asset management in JSM
New features:
Integration of Compass in JSM combines dev and ops data for full transparency
Asset dashboard provides meaningful insights
Integration of DevSecOps tools helps to create transparency about security vulnerabilities
Integration of CI/CD tools supports seamless collaboration between Dev and Ops
Customer support template optimizes support processes
Single sign-on for customer accounts creates a seamless user experience
Service management templates make teams more autonomous and faster
Board View of tickets for optimized overview
Dark Mode for eye-friendly working
Virtual Agent answers questions with the help of artificial intelligence
Agent Co-Pilot creates summaries and optimizes communication
Further news:
New upper limit of 20,000 agents per instance on JSM
Increase in the upper limits of objects in the asset and configuration database to 3 million
Expansion of regional export for data residency: newest region in Canada
Transparency through a "single source of truth"
Integration of Atlassian's Compass and JSM
Compass is one of the latest additions to the Atlassian family. This is a software catalog designed to assist developers in answering queries such as: How do I find a particular micro service? Who owns it? How do I get help if something goes wrong? How do I know if it meets security and compliance requirements?
At the same time, Compass serves as a monitoring tool that supports DevOps teams in monitoring software components and reacting quickly if something gets out of hand.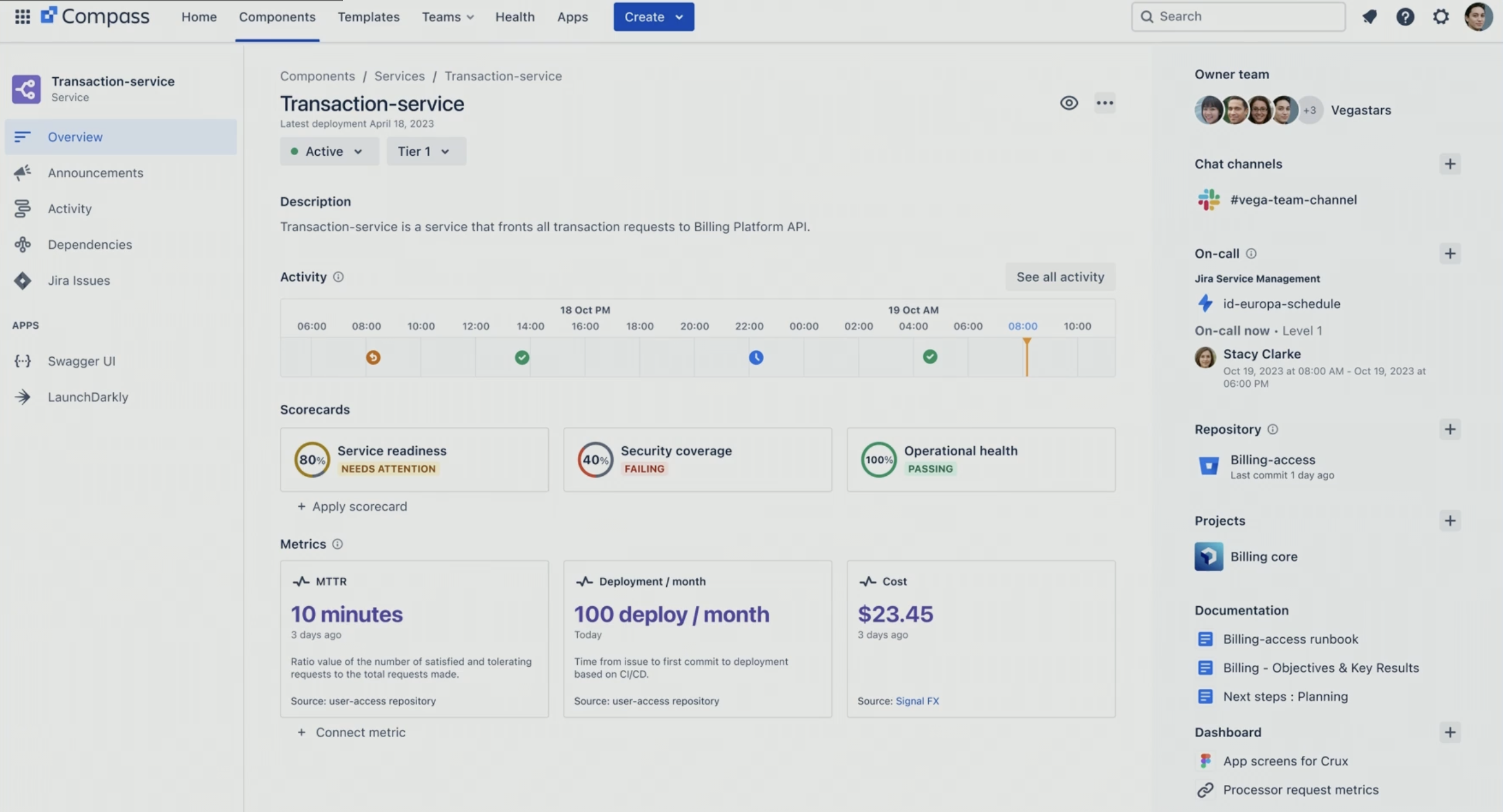 Thanks to the integration in JSM, the IT team, which handles the operational side of a service such as incident and change management, has a full overview of a service and its dependent components. If there is a problem with one of the service components, for example, IT can react and only roll out the change once the problem has been resolved.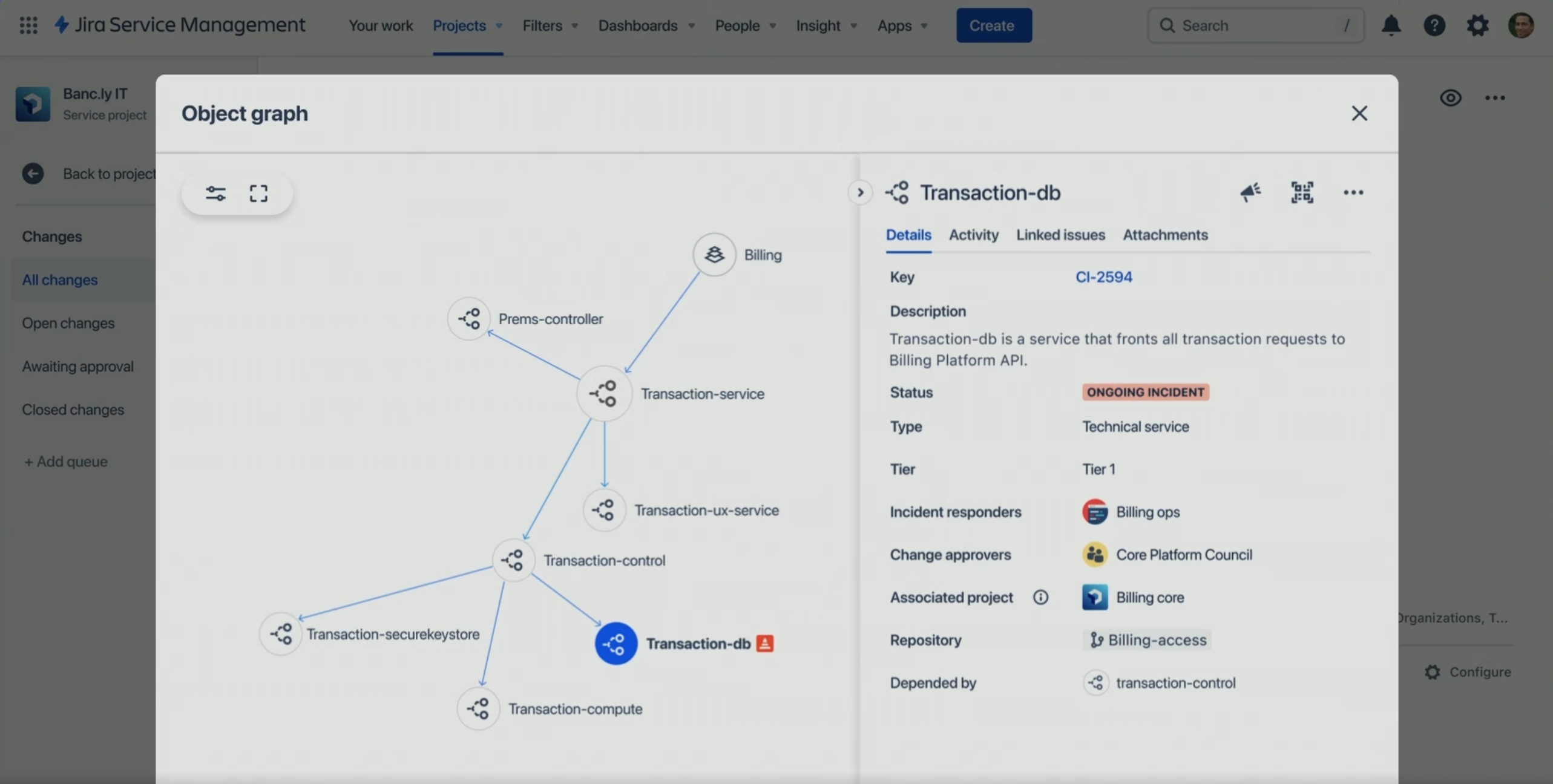 By combining Compass and JSM, developers and the IT team have a view of the same data source, but with the information that is important for their respective jobs. This solves the major challenge of updating data from traditional CMDBs (Configuration Management Database) and expands the view to the developer perspective.

Comprehensive Asset Management with Airtrack and new Asset Dashboard
With the announcement that Airtrack is now part of the Atlassian family, JSM users can now operate comprehensive asset management. Airtrack supports companies in merging and analyzing different data sources and ensures that the data is correct, up-to-date and complete. It provides over 30 out-of-the-box connections, enables data reconciliation (e.g., helps identify missing dependencies between services; discovers unmanaged machines) and processes data beyond IT (e.g., managing security, compliance, billing, forecasting, etc.).
The asset data is stored in a new Asset Dashboard in JSM that provides meaningful insights and supports IT teams in their decision-making processes. Various reports can be created in the dashboard.
The extensive asset data is also available in Atlassian Analytics . This means that they can also be combined with data from other Atlassian tools and third-party tools. JSM thus brings development, infrastructure & operations and business teams together on one platform and creates transparency across the entire company.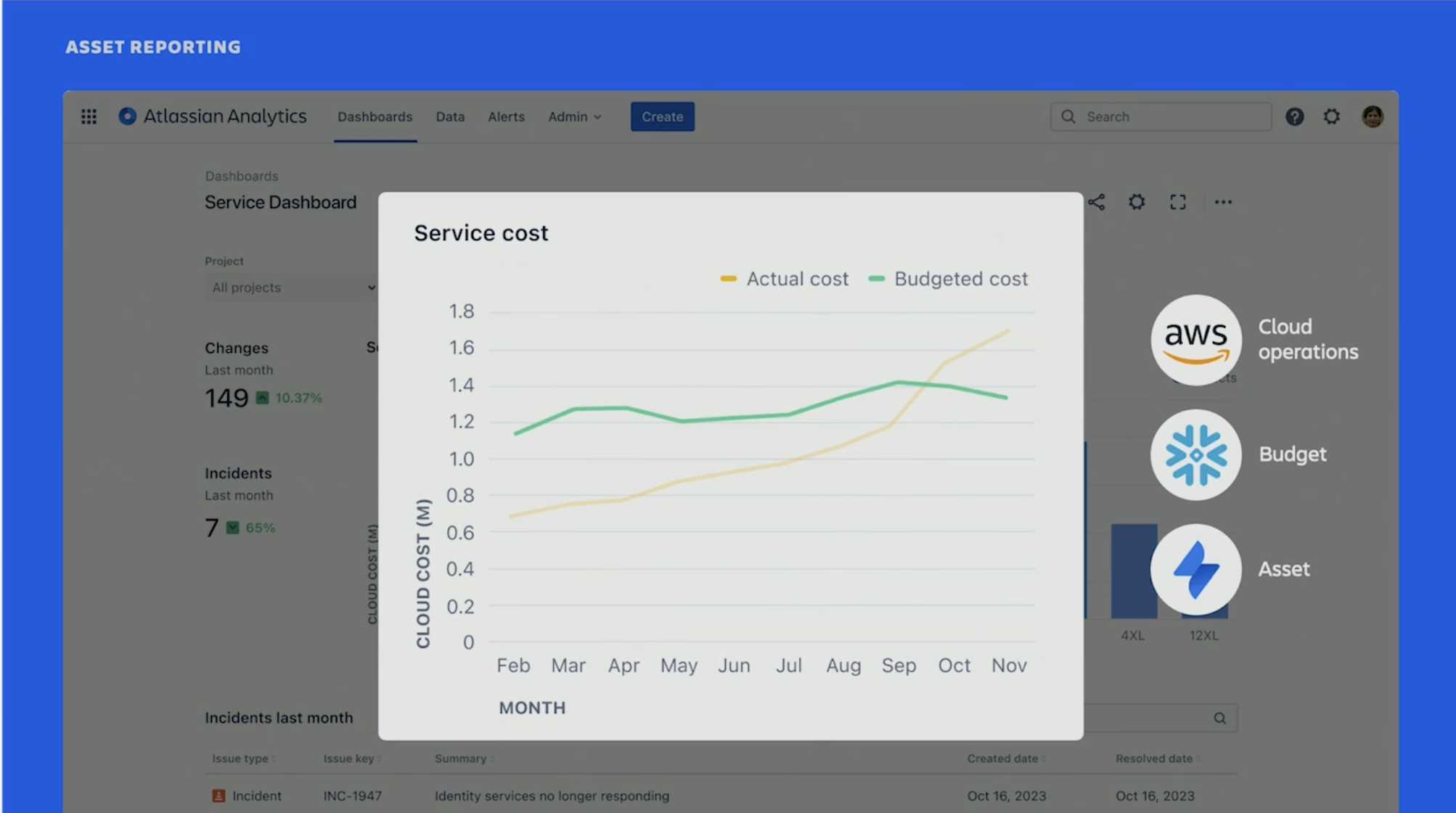 Breaking down silos for more relaxed collaboration
For Developers and IT Operations
Collaboration between developers and IT teams can be challenging. While developers want to quickly deliver new services and added value, the IT team makes sure that these do not pose any risks to operations. New integration options for developer tools in Jira Service Management are designed to eliminate these friction points and ensure seamless collaboration.
The Integration of DevSecOps-Tools in Jira makes it possible to manage risks better. It makes all security vulnerabilities visible within a sprint. Automation rules can also be created to automatically create tasks in Jira when a security vulnerability is identified. This ensures that all risks are addressed before the service is rolled out.
Through the Integration of common CI/CD tools development teams can create change requests without having to leave the tools they use on a daily basis. The change request is automatically created in JSM and can therefore be accessed directly by the IT team.
Ultimately, the result is an integrated process from development and risk assessment through to the approval and implementation of changes. High-risk services can be fed back to the development team in the CI/CD tool for checking before they are implemented in the production system.
With the new Release Hub in Jira they also have an overview of the status of their services, and automatic notifications inform them when a service has been rolled out.
For Customer Support and Development teams
A new JSM template for customer support provides a convenient overview of all customer-relevant data and processes.
It also includes a feature that supports the seamless escalation process and improves collaboration between development teams and support teams. Support staff can escalate customer issues directly in JSM, and the tickets are created directly as bugs in Jira Software. This also allows developers to quickly see what impact the bug they are working on is having on customers. At the same time, the support team has a central overview of all escalated tickets.
For Customer Support and Customers
For seamless communication and ticket creation, customers can be provided with a single sign-on (SSO) solution. Jira Service Management now enables a connection to a separate SSO provider such as Microsoft Azure AD, Google Cloud Identity, etc.
Quick and easy set-up of various Service Desks
New service management templates for different areas of the company ensure that teams can quickly and easily create their own Service Desk. They contain preconfigured request forms and workflows that can be used directly.
The customization options for the service management templates have also been improved and simplified. Furthermore, users can choose from several best-practice templates or create their own forms.
This allows teams to act more autonomously and quickly without having to involve a system admin for setup and changes.
Working more progressively with Atlassian's Artificial Intelligence & Co.
New features for a more user-friendly application
Under this motto, JSM now offers a highly-requested function: The view of tickets in a Board View simplifies the overview and offers the usual drag-and-drop options.
Another new feature is that, for example, night-time users working on support tickets can now also use JSM in Dark Mode for a more eye-friendly experience.
Integrated Artificial Intelligence (AI) simplifies daily tasks and increases work efficiency
With the vision of freeing employees from repetitive tasks and scaling Service Desks, the Virtual Agent is now available in JSM. The Virtual Agent is able to ask a logical follow-up question to an employee question in order to play out the answer for the employee as concretely as possible.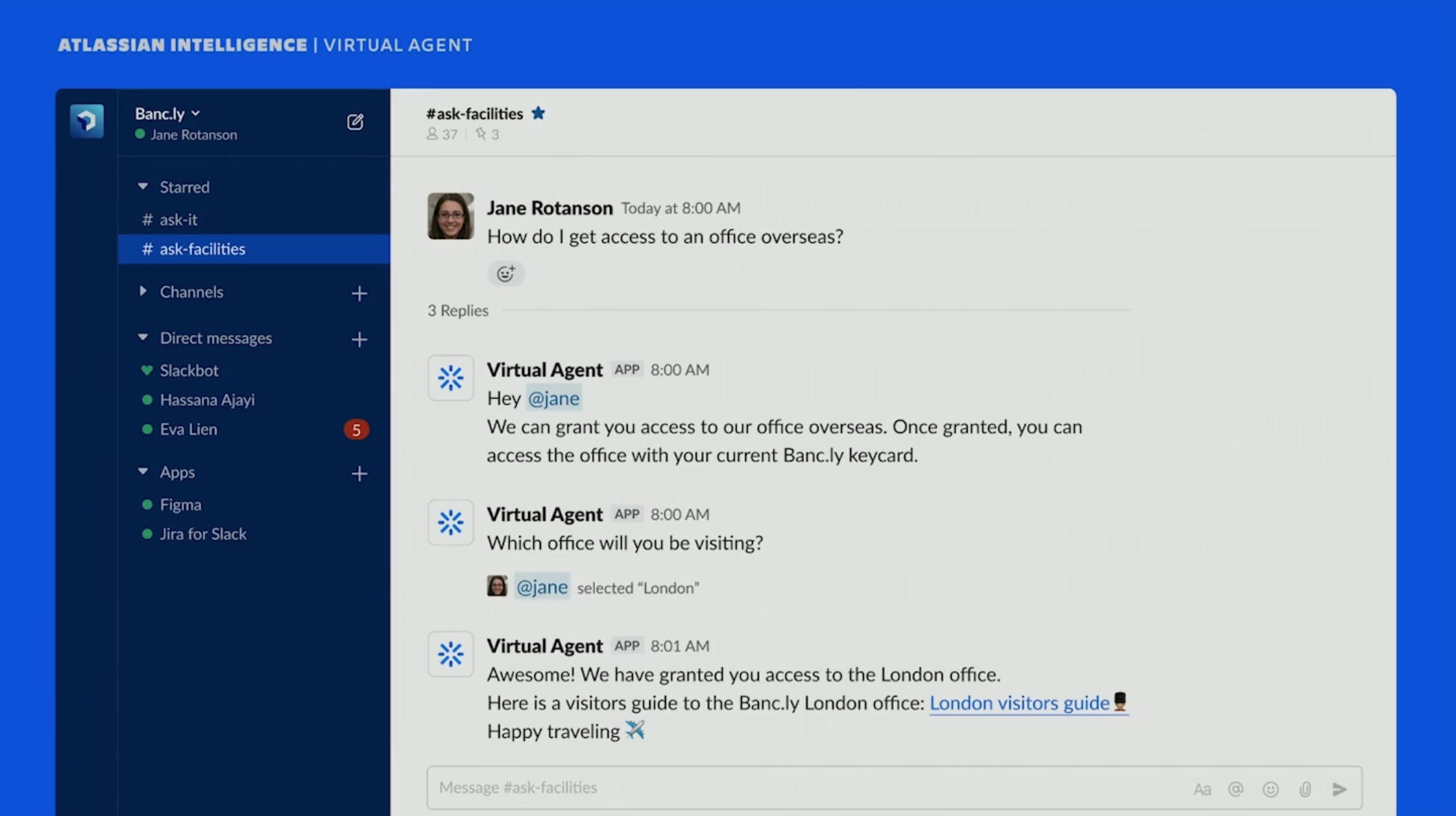 The unique advantage of the Virtual Agent is that it is designed in such a way that anyone can set it up themselves. This is made possible by an easy-to-use no-code interface in which the employee can determine the path that a request goes through. This means that the agent can be set up within a few hours instead of spending days and weeks.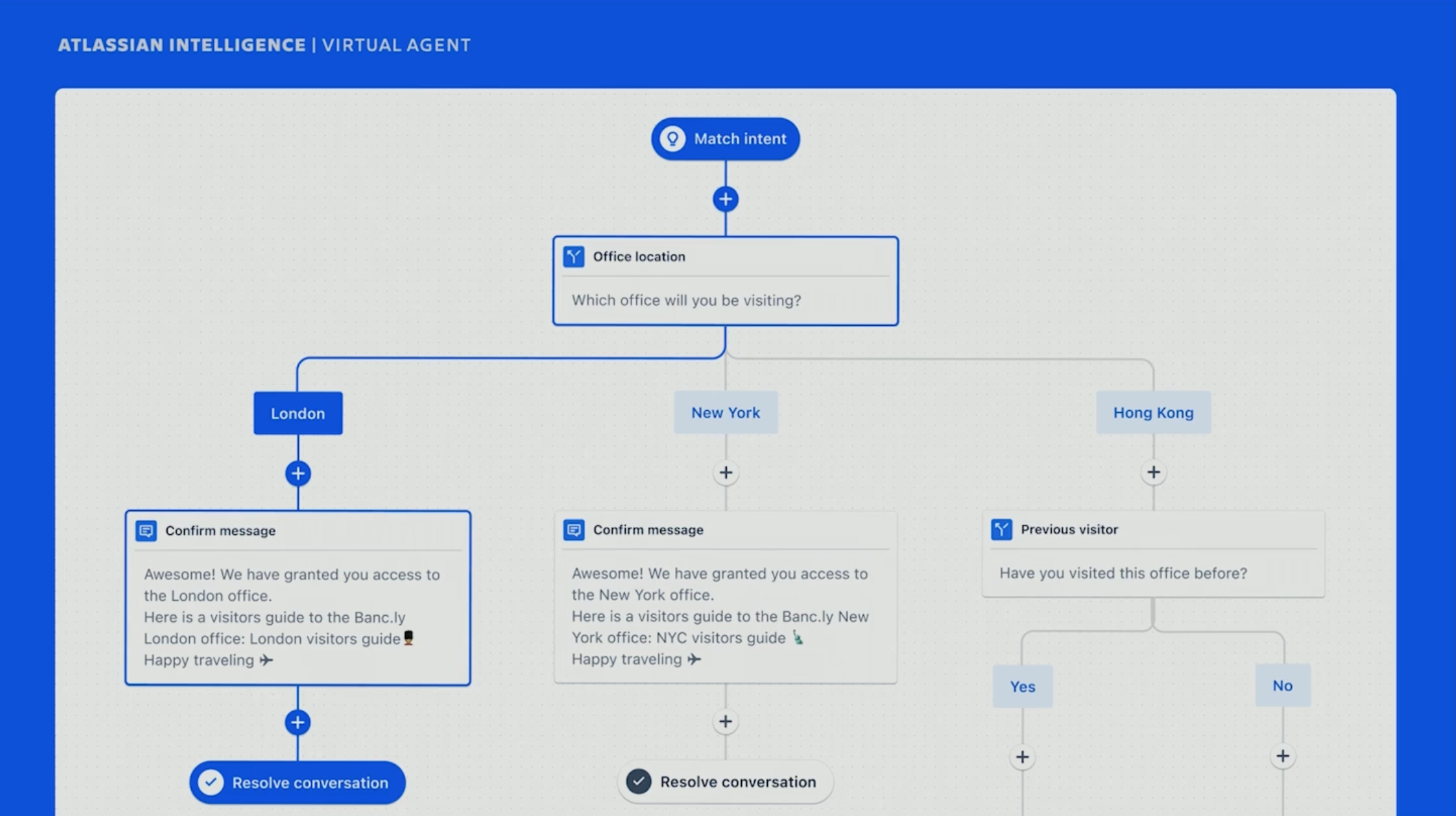 The features of the Agent Co-Pilot (powered by Atlassian Intelligence) has been rolled out. This is intended to improve service management quality in particular, which often suffers when different support employees take turns working on a ticket. The challenge for employees is to keep up to date with the latest information each time, which can be very time-consuming.
With just one click, the Agent Co-Pilot provides a short and concise summary of all processes that have already been documented in this ticket and brings the support employee up to speed in the shortest possible time.
The agent also assists with the formulation of messages to make communication as efficient and clear as possible. It reformulates written texts so that they are clear and professional and provide the necessary context for the recipient.
More news about Jira Service Management
Further news at the High Velocity Event was that the upper limits were raised as follows:
for agents per JSM instance to 20,000 agents
and for objects in the asset and configuration database to 3 million.
Regional export for data residency has also been extended to the Canadian region. The following figure summarizes these updates once again.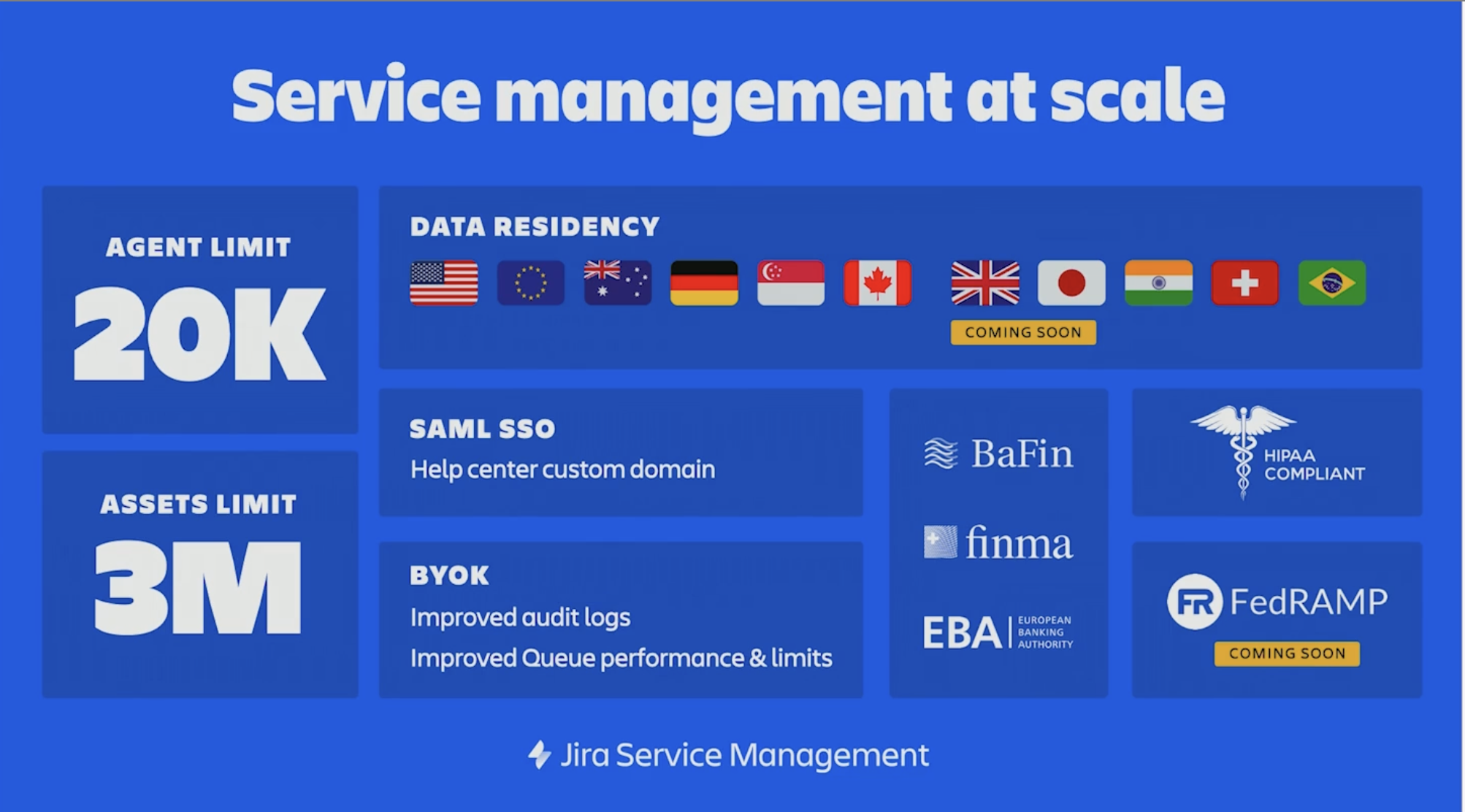 Atlassian's future vision for Service Management
Finally, Atlassian's vision for its service management platform was emphasized: No matter how many different technologies, teams, and systems are in use in the service area - Jira Service Management is connected to all systems as a central platform and serves as a control system to coordinate and solve requests, regardless of which system they are solved in.
Artificial intelligence helps to provide quick, clear and consistent answers. It is also connected to all systems, collects the information there and delivers it in a concise summary.
If you would like to watch the keynote and sessions from High Velocity in Sydney, you can find the video recordings here: https://events.atlassian.com/highvelocity/