Help centers and support portals have become an indispensable part of everyday life. Every day your support team receives requests from users about bugs, problems or other questions. However, it quickly turns out that many of these tickets are similar and can be solved with the help of concrete assistance (e.g. articles or videos). You can then make this content available in your Confleuince Help Center. Technically, this means linking Jira Service Management to Confluence as a knowledge base.
Confluence as basis and knowledgebase
You already use Confluence in your company? Then you can continue to use the existing instance as a starting point for your help center and use all content as a starting point for a public knowledge base.
If you do not yet use Confluence, you can download the free version here. Confluence Cloud. Here you will also find the Jira Service Management Cloud (JSM) and get a first impression of the ITSM solution.
Pro tip: It's best to ask your customer service. They have already prepared a lot and know exactly which questions your users have and which ones occur repeatedly. These you can then directly to your Knowledgebase Add.
Integrate Confluence with Jira Service Management
IT and support teams will usually tell you the same thing: software doesn't always behave the way we want or expect it to. Bugs and errors occur again and again. But answering the same questions over and over again becomes exhausting and costs your team a lot of time. But if you already provide most of the solutions for your team as well as for the users, these tasks will be a thing of the past.
By connecting the ITSM tool to your Confluence knowledgebase, you automatically link all provided articles to JSM.
The genius of it is, all the pages you add in the Confluence space will automatically be added to your service desk and users can search for answers themselves. In addition, you simply improve the user experience and support. Everyone can easily and quickly find the help they need. So simply a "win-win" for all ????. 
Pro tip: Make sure that your service & support articles are always up to date. Then it also does not come back to unnecessary requests on the part of your users.
Add Confluence areas to JSM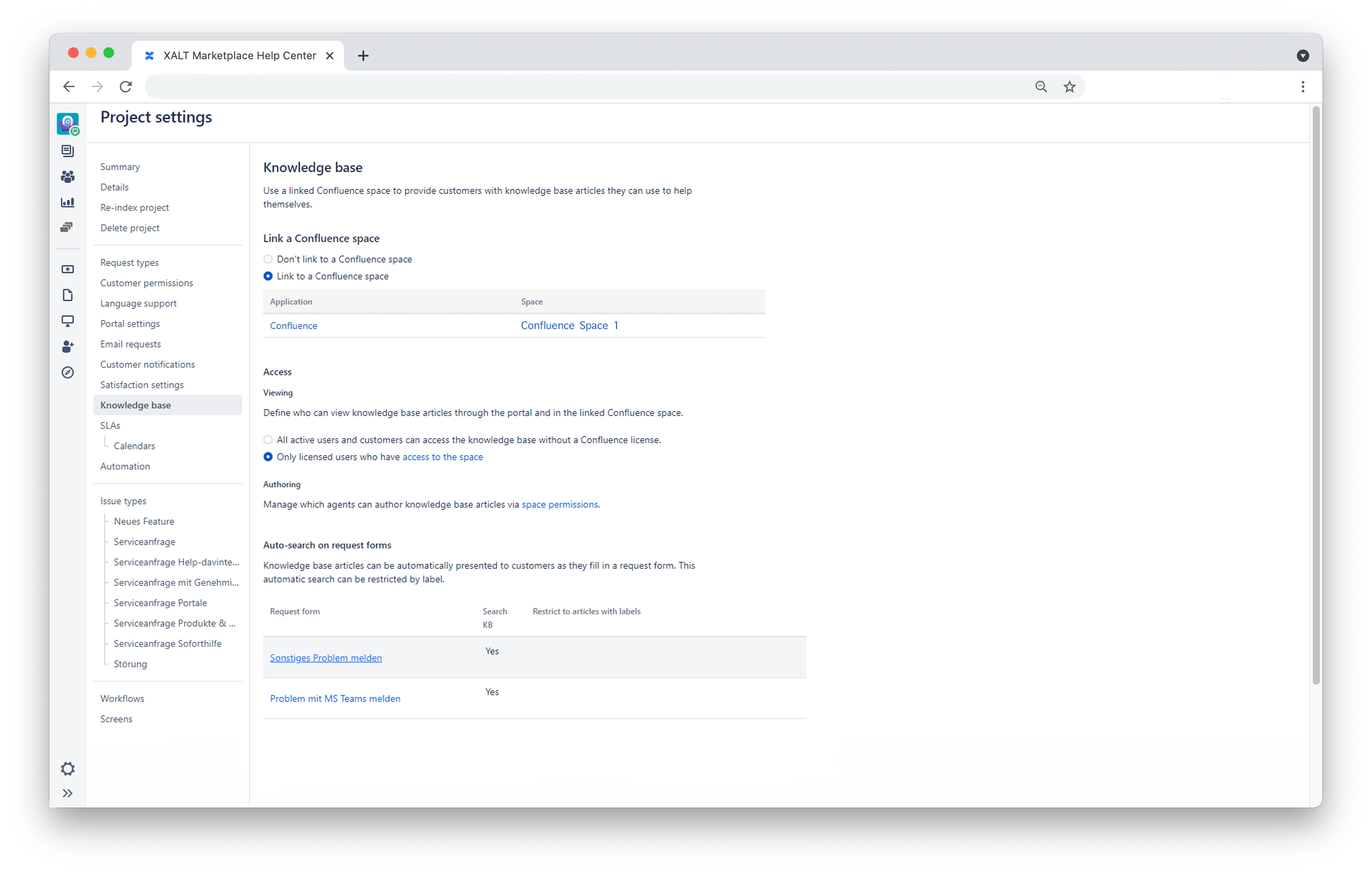 Before you think, "Wait a minute! I also have internal and sensitive content in my Confluence. And I definitely can't have that publicly available!"
Don't worry ????! In Confluence, you can protect certain areas from the eyes of the public with the help of page permissions.
To connect content or Confluence Spaces to JSM, do the following:
In your service project, go to Project Settings > Knowledge Base.
Select "View Permissions" from the drop-down menu next to the linked area of your choice.
Finally, you set the desired permissions.
Furthermore, you can also add multiple areas from Confluence to your service desk and use the mentioned permissions to share certain areas only with your team (such as internal policies). All public articles can also be viewed by non-logged-in users. Also, no user licenses are required for visitors.
But integrating Confluence with Jira Service Management is only half the battle. Nowadays, the user experience plays a very big role. That's why it's incredibly important that you make the provided content as easily accessible as possible.
Personalize Confluence Help Center with Scroll Viewport
Generic help centers are usually very simply structured. They provide all the content you need, but are rather weak in terms of user experience. Because one thing is true: The easier you make it for your users to find relevant content (also through self-help), the happier they are in the end.
Confluence already provides the perfect basic structure for your knowledgebase and help center. But then it still looks like Confluence.
But there is a solution for that. At XALT, we use a plugin called Scroll Viewport. This cool little plugin turns individual Confluence Spaces or pages into a modern help center and can be configured to your liking. Additionally, you can also add your company's branding here.
How you configure Scroll Viewport exactly, you can read in this Article from our partner K15t.
Finally, add Jira Service Management to the Help Center. This way you integrate both Atlassian solutions and further improve your customer service and user experience.
To add your service desk to the help center, you can add links to the header / menu of the help center. You can configure the header directly with Scroll Viewport. How this works, you will learn here.
Pro-Tip: Pictures say more than a thousand words. Instead of too much text, use slideshows and image galleries. For example, you can use our Advanced Image Gallery Plugin. With this you can get the best out of your content.
Your secret weapon for a brilliant customer experience in your Confluence help center
Summary
Confluence as a help center offers you countless possibilities and can be extended with several different functions and plugins. The possibility to connect Jira Service Management and Confluence not only improves the user experience, but also offers your employees the chance to further improve customer service and support, save time and focus on important tasks.
Want to learn more about a help center based on Confluence and JSM? Just read our success story.