Introduction
Picture this: You're in a virtual meeting, your team is spread across different offices and time zones, and you need to brainstorm ideas for the next big project. The days when scribbling on a piece of paper or a physical whiteboard was enough are long gone. With visual collaboration tools like Confluence Whiteboards, Miro, or Lucidspark, it's easier to visualize and share your ideas in real time.
However, the tool landscape with its many options is somewhat confusing. Miro is the largest provider on the market. But with the newly released Confluence Whiteboard (Beta), you may already have the perfect solution for visualizing your ideas at hand. Especially if you have a Confluence Cloud users are (if not, why not?).
This article explains the main features of Confluence Whiteboards and the differences with Miro.
What are Confluence Whiteboards?
Confluence Whiteboards is a new whiteboarding feature within Confluence and Jira, which is based on the Atlassian Team'23 was announced and is currently available as a beta version.
Whiteboards transform Confluence into a powerful online whiteboard. It allows you to collaborate with others in real time, share ideas, and brainstorm solutions.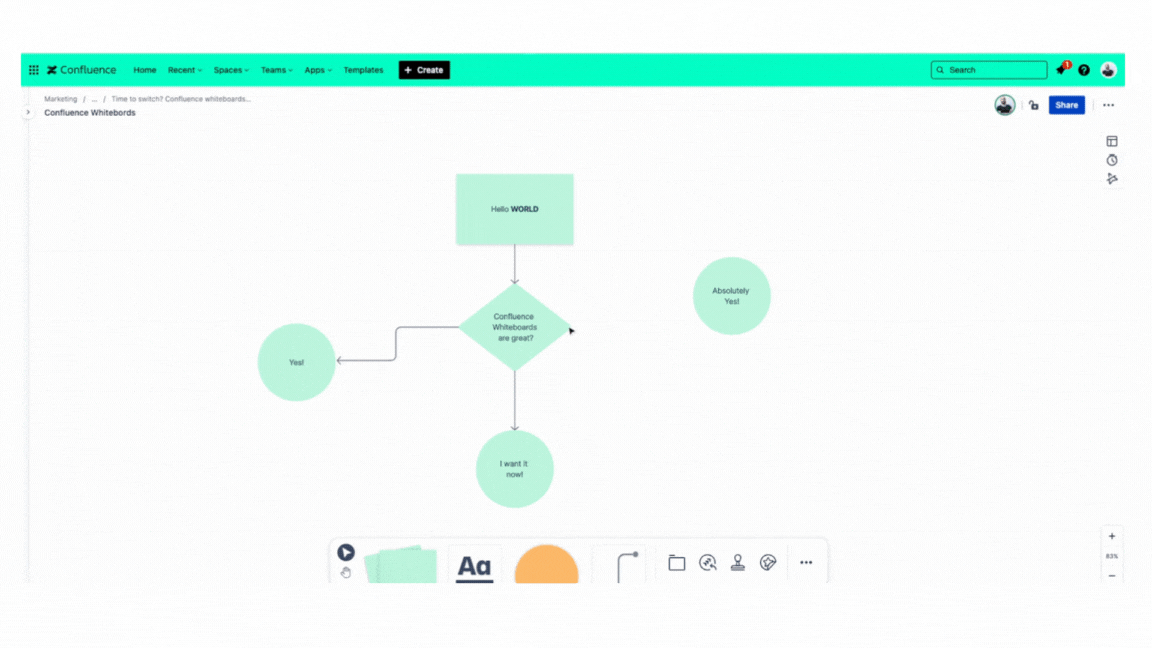 The most important functions of Confluence Whiteboards
With Confluence Whiteboards, you can:
Free drawing and sketching
Add text, images and files
Use shapes and templates
Add comments to documents
Collaborate with others in real time
Share whiteboards with others
Templates for different topics and teams
Confluence Whiteboards is still under development, so more features will be added soon. Also, since it's directly integrated with Confluence, you don't have to pay for an additional tool like Miro.
Why you need Confluence Whiteboards
There are several scenarios where Confluence whiteboards are useful:
Remote Brainstorming: Teams spread across multiple locations can simultaneously jot down ideas, group them, and prioritize them to ensure every voice is heard.
Design Workshops: Designers can create wireframes, user journeys, and even high-fidelity prototypes while gathering instant feedback from stakeholders.
Agile Planning: Scrum masters and product owners can effectively perform sprint planning, retrospectives, and backlog prioritization.
Training & Workshops: Instructors and trainers can use Confluence Whiteboards to conduct interactive sessions where students or participants can actively engage in group activities.
Customer workshops: Consultants or agencies can collaborate with clients in real time to make strategy sessions more productive and engaging.
Research and Analysis: Teams can map research findings, user interviews, or competitive analysis and visually organize the data to gain better insights.
Another advantage of Confluence whiteboards over Miro for agile teams is that it's much easier to assign tasks and Jira Tickets Create directly from drafts and notes in whiteboards.
In summary, Confluence Whiteboards is a great tool that can take advantage of the features of other Atlassian Tools extends: collaboration and teamwork. It also allows you to get more out of your Atlassian licenses to increase ROI, so to speak.
What is Miro?
How Confluence Whiteboards is Miro an online collaboration platform designed to bring teams together, whether they work remotely or in the same office. It provides an intuitive, visual way to organize thoughts, brainstorm, plan projects, and more.
Most important features
Real-time collaboration: Multiple users can work on the same whiteboard at the same time and see each other's changes live.
Pre-made templates: A wide range of ready-to-use templates for various activities such as mindmapping, project planning, SWOT analysis, etc.
Integration with other tools: Seamless integration with popular platforms like Slack, Google Workspace, Microsoft Teams, and more.
Unlimited workspace: The workspace can be expanded infinitely and offers as much space as needed for complex projects.
Notes and Comments: Team members can leave notes, comments or feedback directly on the whiteboard.
Safety and compliance: Strong security measures and compliance with industry standards to protect sensitive information.
Mobile accessibility: With the mobile app, you can access and edit your boards on the go.
The main goal of Miro is to create an interactive and dynamic space where team members can collaborate in real time. It facilitates creativity, collaboration and visualization of ideas, overcoming the barriers often associated with traditional or remote work environments.
Confluence Whiteboards vs Miro
User interface:
The user interface of Confluence Whiteboards and Miro is similar, but Miro offers more tools and options for editing your whiteboard. Confluence whiteboards stick to the basics, and ease of access for users seems to be a priority. When using Confluence Whiteboards, we noticed a few key differences from Miro. There is (still) no option to select fonts in whiteboards, so any text you add to your board will always be displayed in the same font.
In general, the Confluence Whiteboards user interface can be described as very simple, but helpful and easy to navigate. You can insert differently shaped text boxes, connecting lines, sticky notes, free floating text, lines, stamps, stickers and image attachments.
It's also very nice that you can preview Jira tickets directly on your whiteboard and change agent, description, status, etc.. All without having to navigate to Jira.
Integrations
Confluence Whiteboards is directly integrated with Confluence and Jira, which is perhaps its strongest feature. It's easy to launch your ideas and design collaboratively, and easier to stay in the Atlassian ecosystem.
Conversely Miro integrate well with external tools such as Slack, Zoom, and Atlassian Tools. In addition, Miro allows embedding technical diagrams from providers like Gliffy or draw.io, which Confluence whiteboards do not yet offer.
Collaboration features
There is no official information about how many users are simultaneously in Confluence Whiteboards to be able to work, as it is still in the beta phase. However, our preliminary tests show that at least ten users can work on whiteboards without problems.
Together with Miro up to 100 users can work on the same board at the same time. Guest access is also relatively easy with Miro, and you can include your customers on your Miro boards.
Pricing
Confluence Whiteboards will be free, from the Free to the Enterprise level.

free

, from the Free to the Enterprise level.
Miro has a free version that offers limited features for multi-board collaboration and is only suitable for testing the tool. To get the full package, you need to opt for the "Business" level, which requires you to pay $20 per month per user.
Support and community
This point goes to Confluence Whiteboards, when it is officially released. The Atlassian community is larger and more sophisticated than Miro's, and you won't have trouble finding people who know how to use whiteboards and understand the tool's potential. However, the main advantage is that Atlassian's support and community go far beyond whiteboards. Many Atlassian partners like us focus not only on the technical aspect of a tool, but on solving business challenges using Atlassian tools like Confluence Whiteboards.
Miro also has an active community forum and many resources to help you optimize your usage.
Pros and cons of Confluence whiteboards or Miro
Pro`s
Tight integration with the Atlassian ecosystem
Easy to use, with a simple but functional UI
Included in all Confluence (Cloud) versions
Contra
(Still) no possibility to import Miro boards
Limited formatting options
No special applications or integrations
Still in beta phase
---
Pro`s
Powerful, easy-to-use visual collaboration tool
Hundreds of third-party integrations (Microsoft Teams, Google Workspace, Atlassian, Figma, Adobe CC, Sketch, etc.)
Hundreds of free templates, API access, and developer tools to develop your own apps
Dedicated apps available for desktop and mobile
Contra
High prices for small teams
Use cases for Confluence Whiteboards & Miro
So, when should you use Miro, and when should you try Confluence Whiteboards?
Confluence Whiteboards (in its current state) is best suited for teams that work extensively with Jira and Confluence and have no problem with their Miro boards not being able to migrate yet. If your team is new to whiteboarding, you should try Confluence Whiteboards and see if it meets all your needs. Especially if you are a Confluence Cloud user, as mentioned above.
Miro is best suited for teams that take visual collaboration tools seriously and need integrations with other tools like Gliffy, or want to do quick, rough prototyping of websites and app layouts.
Conclusion
Confluence Whiteboards
Miro
Price
From the free Confluence version to the Enterprise version included
Free version available
Premium version from $10/user/month
Integrations
Confluence, Jira
Slack, Google Workspace, Microsoft Teams, Zoom
Templates
A variety of templates available
A wider range of templates available
Notes
Text, shapes, images, notes
Text, shapes, images, comments, notes, GIFs, videos
Cooperation
Real-time collaboration
Real-time collaboration
Security
Encrypted whiteboards
Encrypted whiteboards
Mobile Version
Not yet
Mobile app
So is it officially time to retire your Miro boards and switch to Confluence whiteboards? Not quite. If your team uses Miro extensively, there is currently no easy way to migrate all Miro boards to whiteboards, making the switch difficult for many people. Also, many use the official "Miro for Confluence" add-on, which allows you to easily embed Miro into your Confluence.
If you are new to visual collaboration and your team uses Confluence and Jira extensively, is Confluence Whiteboards the tool of your choice. All the basic features are there, and more will follow (especially integrations with other tools like Gliffy) to further expand the functionality.
What do you think? Have you already tested Confluence Whiteboards or are you interested in testing Whiteboards for Confluence yourself?
Want to increase the return on investment (ROI) of your Atlassian license cost by adding more use cases? Contact your Atlassian experts to learn how you can realize the full potential of your Atlassian Confluence license.