The cloud is ubiquitous and new apps are released every day that can be used directly and on-demand and natively on the web. But this is not always what companies want. Often there are security concerns from IT administrators or lack of flexibility of apps in the cloud. Atlassian has also decided to migrate its two popular apps, Jira, Confluence, Bitbucket and Co to the cloud. As a result, both apps are still offered as data center variants. So the question is, which solution is best for your business? Atlassian Cloud or hosting on AWS or Azure?
Atlassian Software Stack on AWS or Azure
Cloud solutions on AWS are especially popular in the enterprise sector. This is not only due to the fact that with AWS you can scale your cloud at will and are thus flexibly positioned. But also because of factors like performance and availability. Furthermore, you have the possibility to host your own apps on AWS or Azure in addition to the Atlassian software products.
Benefits Atlassian Hosting on AWS or Azure
Scalability and flexibility
Similar to the native Atlassian Cloud, data center solutions from Atlassian grow with your business. However, there are some advantages to consider here:
Horizontal scalability by adding additional hardware or upgrades through AWS / Azure
No user limitEven 5,000 or 10,000 and more are possible with Data Center on AWS or Azure.
No downtimeUpgrades happen in the background and cause no downtime to your Atlassian software instances.
Security with Hosting on AWS or Azure
IT security is ensured through additional measures by your hosting partner and IT department. These include:
Secure authentication protocols and advanced auditing.
Integration of SAML-SSO 2.0: Secure your web access additionally.
AWS / Azure Security MeasuresAdditional encryption layers, such as for all cross-region VPC peering traffic and customer or service-to-service TLS connections.
Full admin and database access
Site selection of the data centersMake sure that your data is stored in your preferred region.
Reliability and stability
Access to your systems is guaranteed by operating locally separated data centers in case of server failure.
System access even in the event of server failure: Locally separated data centers offer extended reliability in the event of server failures
Integrated disaster recovery: Restore your systems easily and minimize downtime
Infrastructure and operations
Custom Domain Name (DNS): Connect your own web domain to your Atlassian software solutions.
Outsource operations: turn to an external partner to manage and maintain your hosting infrastructure.
Integration and plugins
High availability of plugins: Most Atlassian Marketplace partners already make their plugins available (about 3,000).
Atlassian API: Application development, customizations and integrations possible.
For whom is Data Center Hosting suitable?
Jira or Confluence Data Center on AWS or Azure is especially suitable for larger teams that need 500 users or more and flexibility of their infrastructure. Additionally, due to the large number of apps available, few cuts need to be made when expanding instances. Additionally, Data Center is suitable for companies that need an extra layer of security and want to have full control over their infrastructure.
Managed Atlassian Hosting
Reduce operational complexity and simplify the operation of your Atlassian products such as Confluence, Bitbucket and Jira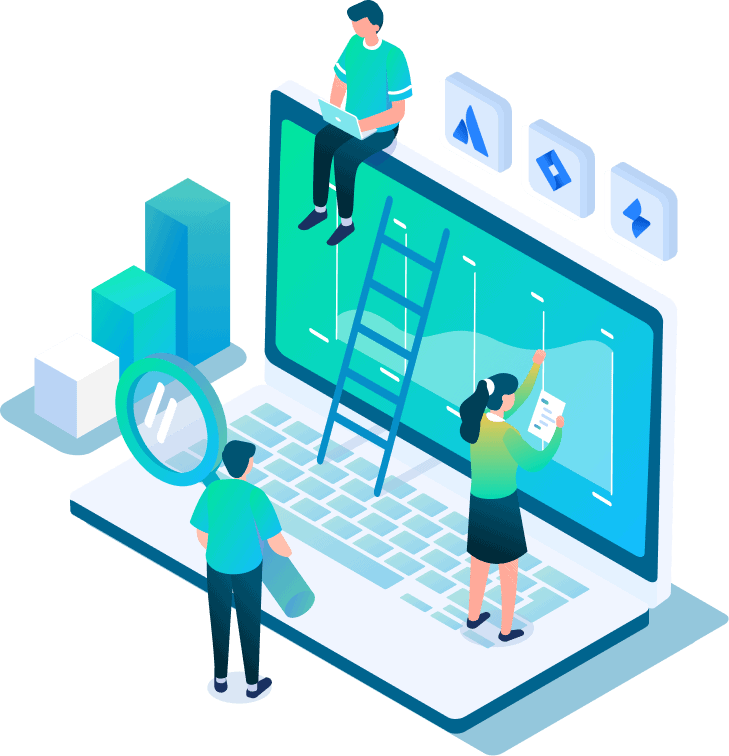 Disadvantages of Atlassian on AWS or Azure
Despite some advantages, Atlassian Data Center on AWS also comes with some disadvantages:
High costs for operating and setting up the server infrastructure.
Especially unsuitable for smaller teams and quickly leads to high costs due to a higher user tier.
Operating costs increase due to the deployment of multiple infrastructure components.
Increased administrative costs due to more complex infrastructure.
Not all apps from the Marketplace providers are available for Data Center yet.
Hosting on Atlassian Cloud - Jira and Confluence
Furthermore, Jira and Confluence are available directly from Atlassian as SaaS (Software as a Service) and are hosted directly by Atlassian. This means that they can be integrated into your company quickly and without any detours. If you have been using a Server Data Center license, Atlassian also offers free tool to migrate your Jira or Confluence data to the Atlassian Cloud.
Jira and Confluence hosted by Atlassian is available free of charge for small teams of up to 10 users and already offers a sufficient range of functions.
Advantages of the Atlassian Cloud
Scalability: Jira and Confluence grow with your business
A big advantage of Atlassian Cloud is that both apps grow with your business. That means, depending on how many users you need for the software, the more cost-intensive it becomes. However, this allows you to keep a close eye on your costs and react to changes in your business at any time. Additionally, there is currently a user limit of 35000.
Security of the Atlassian Cloud
As already mentioned, the security of cloud solutions is a critical factor. After all, sensitive company data should only be accessible by your employees. For this reason, the Atlassian Cloud offers several security precautions:
Create permissions for your usersUse the integrated role function to control access permissions.
SSL, SSO: The cloud is secured and encrypted using TLS or SSL and can be further secured by connecting to a SAML single sign-on provider.
Server location selection: To achieve GDPR and DSGVO compliance and know the exact location of your data, it is possible to choose the location of the server.
Password policyDefine which requirements the passwords of your users must have.
Reliability and stability
Your team needs incident-free access to your instances in Atlassian software in the cloud.
Cloud availabilityDepending on the expansion stage, an availability of up to 99,5% to reach.
UpdatesAll updates are automatically applied as soon as they are available. So no downtimes occur
disaster recovery: Backups are made every 24 hours and kept for 7 days to be prepared for the worst.
Secure recovery proceduresIf nevertheless something should go wrong, there are controlled possibilities to data rescue
Infrastructure and operations
Low effort and operating costs by managing the cloud through Atlassian
Functionality is always up to date. You always get the latest features and don't have to update on your own.
Integrations and Plugins
The Atlassian Cloud is constantly expanding. And so is the availability of Marketplace Apps.
At present approx. 1000 Apps available in the cloud and more are becoming available every day.
Not all apps from popular providers are available in the cloud yet.
Calculate your costs for the Atlassian Cloud
Find out what the costs are to the and the company when you move to Atlassian.
Disadvantages of the Atlassian Cloud
Despite unbeatable benefits, there are some factors to consider when using the Atlassian Cloud that can be challenging for organizations.
Number of usersWithout an enterprise solution, the number of users is limited to 1000. So the cloud may not be an option, especially for large enterprises.
Restricted Admin Access: With Atlassian Cloud, your IT department does not have direct access to the database.
Atlassian Cloud bound: You do not have a choice of cloud provider.
Plugins and integrations: Only a limited number of apps are currently available in the Marketplace.
Who is the Atlassian Cloud suitable for?
The Atlassian Cloud is primarily for smaller teams or startups that want the flexibility to have their Jira or Confluence instances and an on-demand system right at their fingertips.
In any case, for the migration to the cloud (Data Center or Atlassian Cloud), you have a strong partner at your side who can advise you on all relevant questions regarding requirements and problems.
Do you need a strong partner at your side to help you with all your questions about migrating to the cloud? Here you will find you can find more information about migrating to the cloud and what exactly a switch from server to data center looks like.