Detailed reporting has always been part of any professional workflow. And so it is also easy to create detailed reports in Jira Service Management. These enable your team to continuously evolve.
With the help of the fully integrated and native reporting function, you can constantly evaluate the performance of your team. And then you can analyze where a bottleneck exists. And all this without having to manually intervene at any point.
Native Reporting - Made Easy
Jira Service Management comes with some predefined reports and creates them completely automatically by default. The following reports are already predefined:
Performance Report - Created vs. Solved Operations: Find out how effectively your team is working or at what point a bottleneck effect occurs.
Elapsed time to resolution: Can your team handle enough tickets in a given time frame?
Time to first reaction: How long does a ticket remain unprocessed in the system?
Waiting time for support: How long does a ticket creator have to wait for support?
Requests by priority: Which priority is most common?
Service Level Agreement (SLA) ReportsHow good is my customer service really? Here you can find out whether your customer service has really achieved the goals you set. And at which point the performance was ultimately insufficient. Possible SLA reports are:

Time to solution
Waiting time until the first support
Time until the first answer
Jira Service Management offers the additional advantage that all reports can be customized at any time. And you can also create fully personalized reports.
You can release "read-only" reports to your team. This creates the necessary transparency towards the defined performance indicators (KPIs) and tells your team exactly what data is being collected.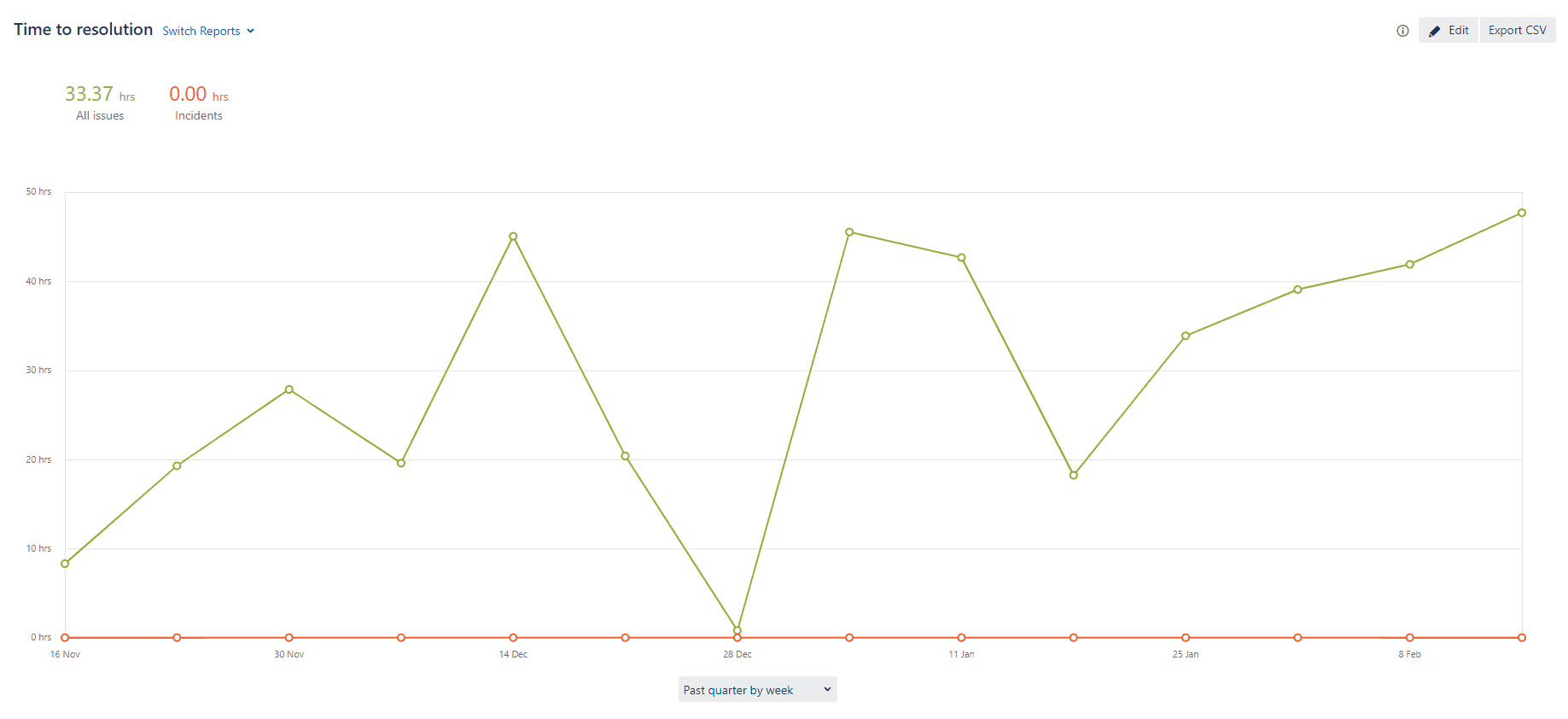 Performance, visibility and tracking
With Jira Service Management, the Customer Service and Support teams can easily track their performance and have visibility into reports at any time. As mentioned earlier, you can create real-time reports. These provide both the team and the management with insight into the workflow. This makes it easy to evaluate where improvements can be made or if additional manpower is needed. You are always able to track all relevant KPIs. And you can find out where you or your team can improve further.
Example Reports in Jira Service Management
Performance Report: Created vs. Solved Operations
This report gives you an initial overview of the number of requests created compared to the number of requests resolved. This way you can immediately see if, for example, an update of your IT system has led to an increase in requests. Or if less requests could be solved due to an employee's absence. Furthermore, it can also be determined whether the processing time of individual requests could be reduced through the introduction of a new process.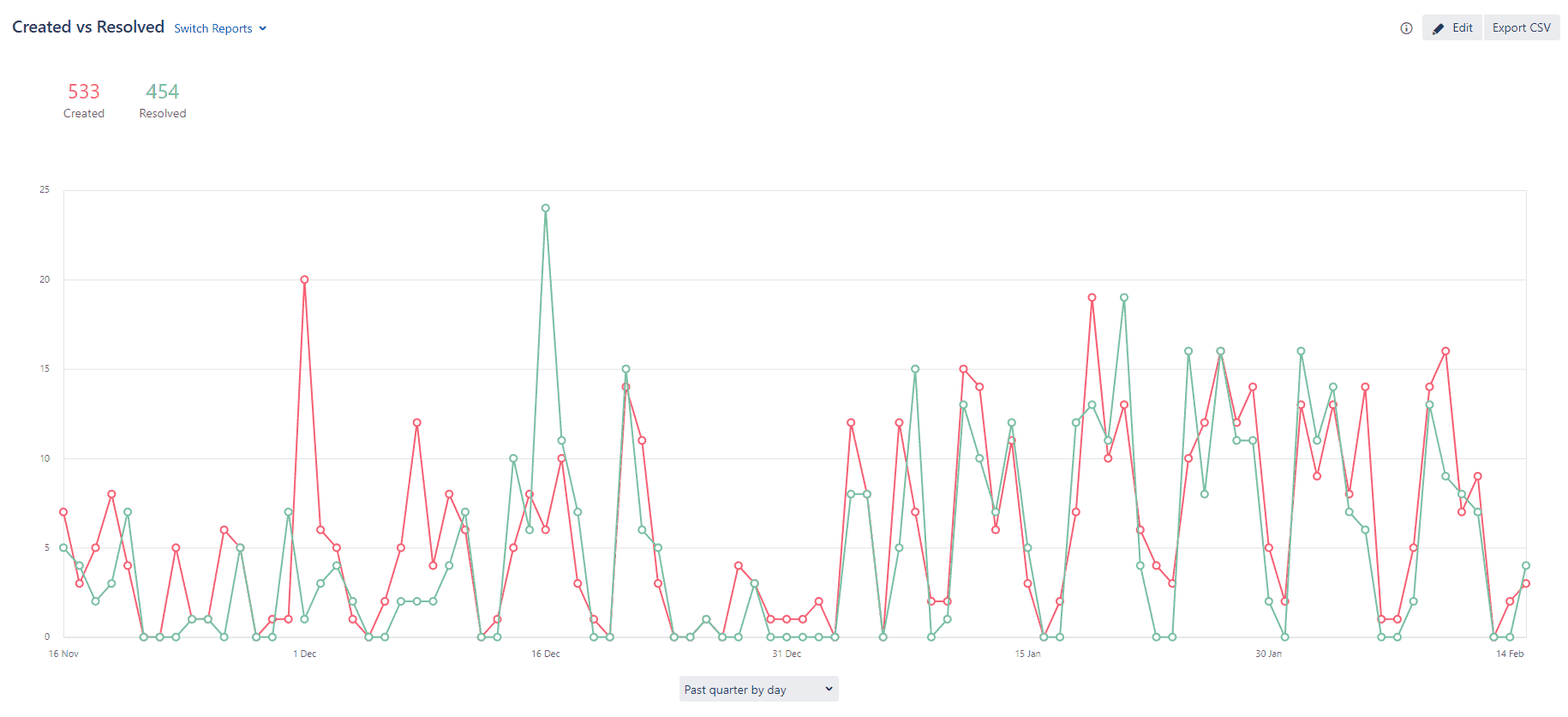 Requests by priority
With this standard report, it is easy for you to find out which request priority is most frequently selected by Jira Service Management users. With Jira Service Management, you can easily get an overview of which JIRA issue types are being handled by your customer support team.
Jira Query Language (JQL) Reports
In addition to the predefined reports, you can also filter JIRA issues with JQL. This means that by highlighting the responsiveness of certain issue types, you can see, for example, how quickly a blocker or a high-priority ticket is answered compared to other issues.
Your teams can use it to break down data further and refine reports, for example, to highlight specific issues and make them clearer. With these insights, you can proactively answer knowledge base articles down the road. And provide your users with articles in advance in the help desk for self-service. This way, certain support requests can already be answered and solved without a ticket.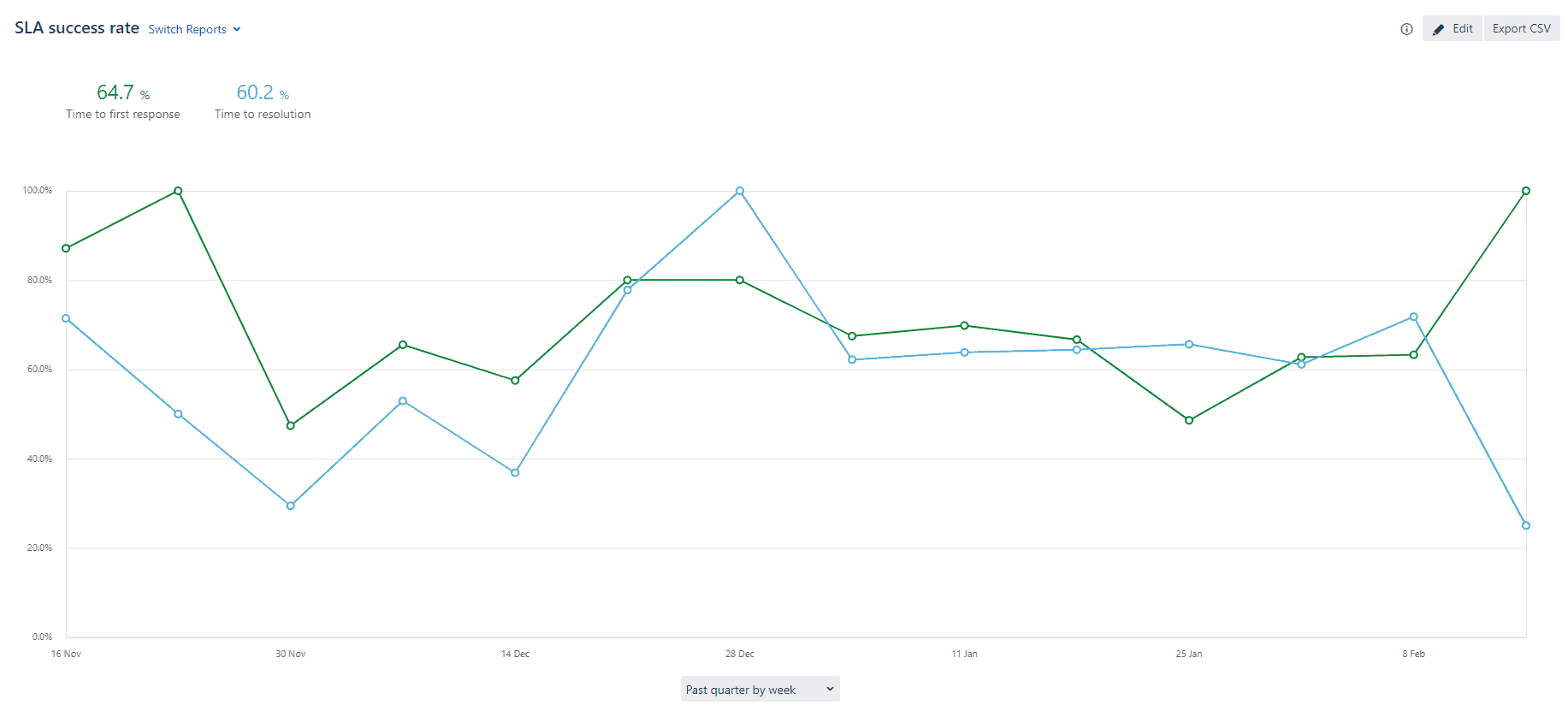 12-Month Report Archive
Jira Service Management stores reports for 12 months and allows you and your team to assess which KPIs or target values are relevant to your business. service level agreements should be defined. This makes it easy for you to set realistic targets for the customer and support team and to visualize the workload and performance.
XALT as Atlassian Gold Partner
As an Atlassian Gold Partner for Jira and Confluence, we are happy to support you with all questions and solutions related to the introduction and use of Atlassian solutions. This also includes the introduction of Jira Service Management in your company. We advise you in all questions from planning and configuration to licensing and implementation of Atlassian solutions. You can find more information about our services on our information page about our Atlassian solutions. Atlassian Services.