The last team event in October 2021 was a great success. The event was highly needed due to Covid-19. The team liked it so much that we wanted to organize further events at shorter intervals. Now, in June 2022, the time had come for the next event. The team was excited to get back together and continue the fun. But this time a little bigger, more extensive and with more participants.
So we decided to spread the next team event over two days.
Day one: Rafting on the Isar River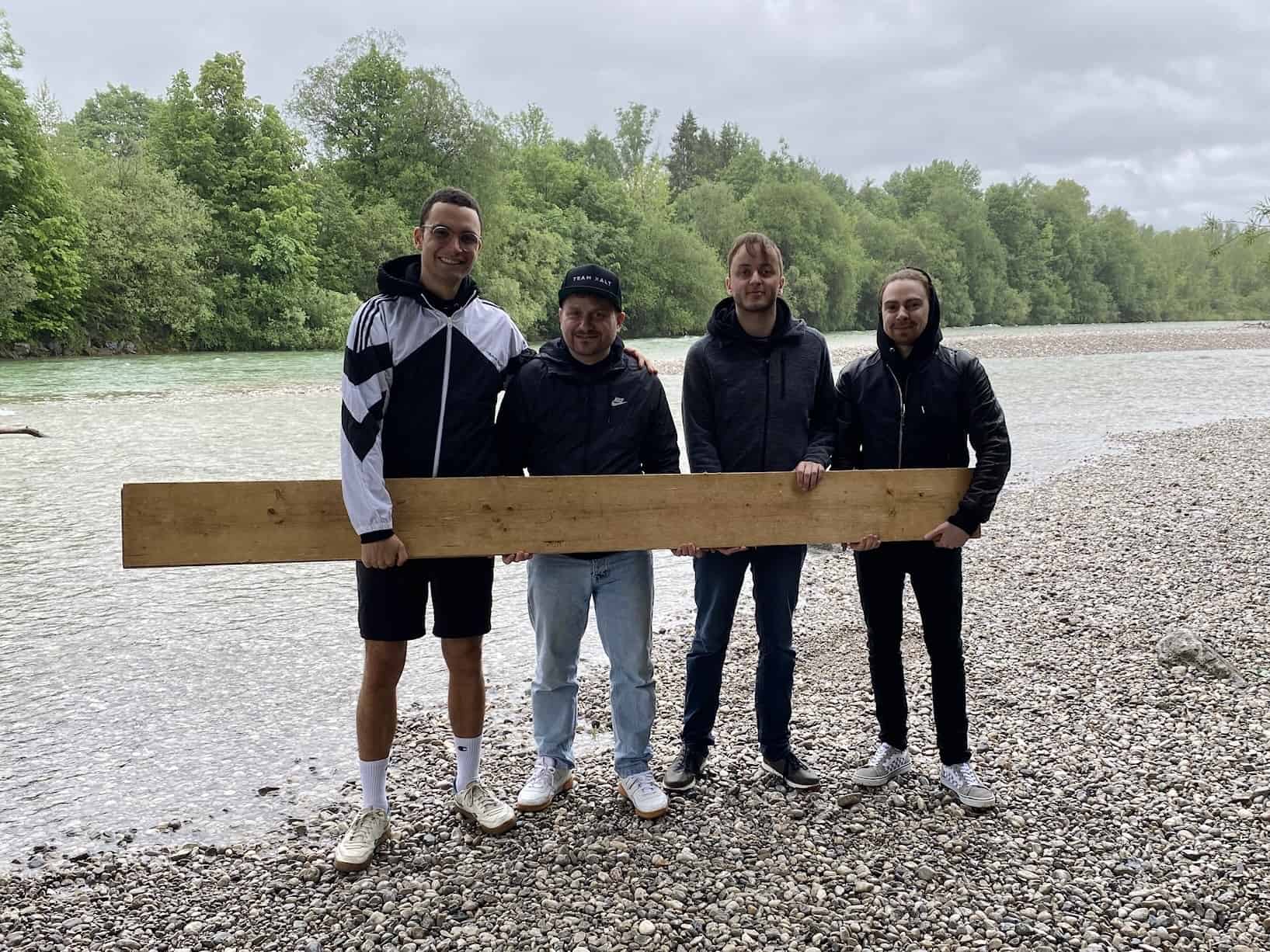 The first day should focus on fun, team building and communicating with each other. The second day was to focus on improving communication within Team XALT. Therefore, we invited a coach for a workshop that helped us break down our communication style into small steps and improve each step to achieve a more polished approach.
But back to the first day. As the first location of the day, we decided to visit the foothills of the Alps on the Isar. To be more precise, Lenggries. After arriving in Lenggries, we went directly to the headquarters of the organizer Montevia.
Here, during the obligatory Weisswurst breakfast, it was finally revealed what the marketing team had come up with. The team was to build its own raft and use it to navigate the turbulent waters of the Isar. So first we went to the banks of the Isar, where a small kit for building the raft was waiting for us. After a short introduction by our guide, we could already start. The rafts were built, neo's were put on and then we went out on the water.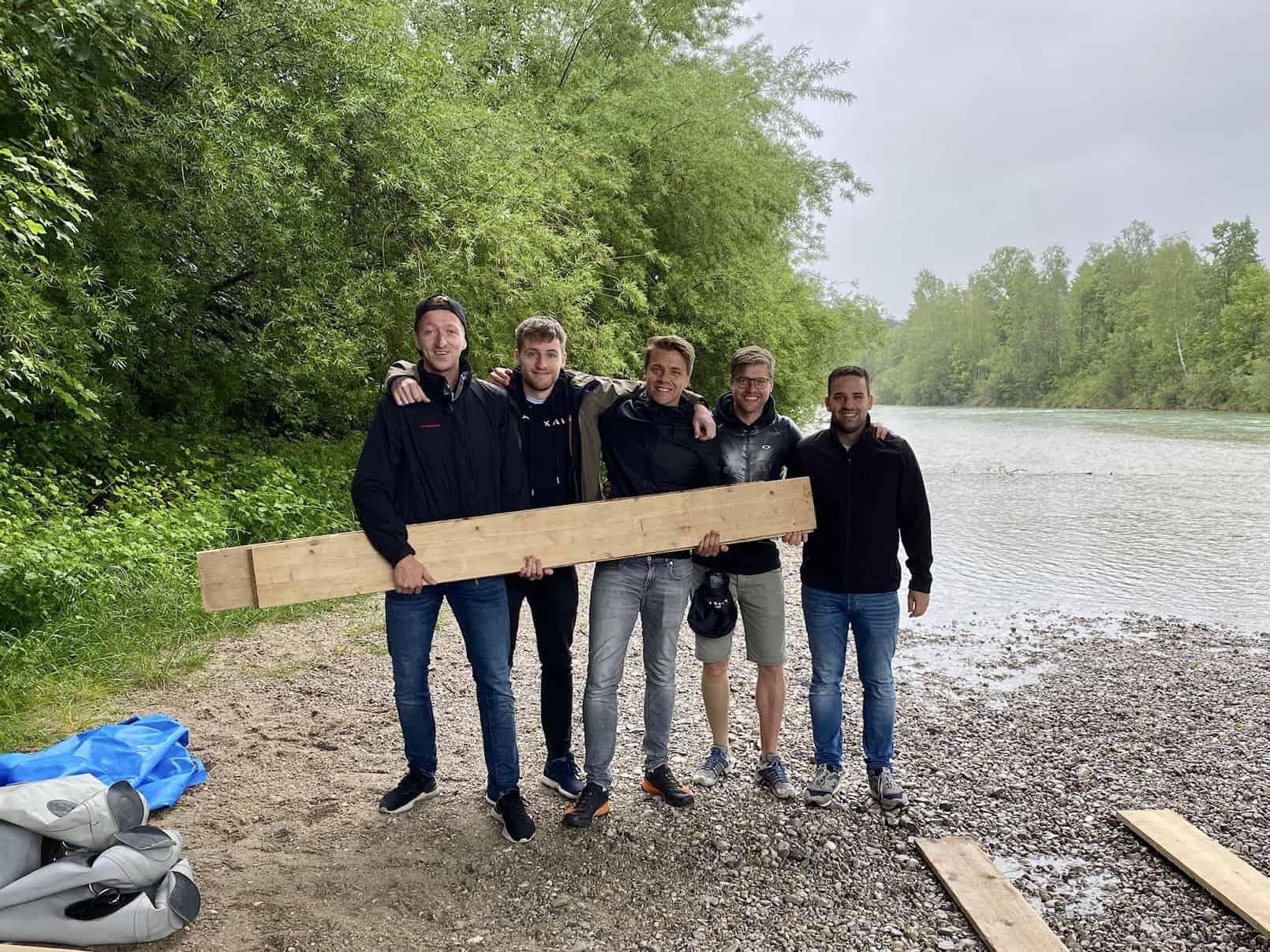 But wait, the day was not over yet. After we dismantled the rafts, we headed back to the train station, back to Munich, and to Killian's Irish Pub. As you can imagine, we were all pretty hungry after spending half a day on the water. And what better than some delicious burgers, spare ribs and a cold pint of Irish Ale.
Day two: Workshop Munich Office
Today's workshop was all about team building and what it means to be a part of XALT. We started with a short introduction from Timon, our coach, and then went straight into building our XALT mobile.
We split into three teams and got to work making our mobile look, feel, and function the same.
Next, we talked about when it's time for XALT. We discussed the four stages of psychological development that a team goes through when working on a project: Forming, Storming, Norming, and Performing. The model is also called Tuckman's Phases of Group Development.
This was a very helpful exercise for us because it helped us understand what stage our team is in and what we need to do to continue to grow and develop - personally and as a team.
Finally, we discussed the topics we are currently working on. We looked at our project pipeline, projects that have been completed, and topics that need to come back to the table. This was a great opportunity to get an overview of what everyone is working on and identify areas where we need to provide more support to individual team members.
All in all, today's workshop was a great opportunity to bond as a team and get a better understanding of our roles and responsibilities.
Time for a short summary
In summary, the second day of the team event was a great success. We had a lot of fun, got to know each other even better and learned a lot about how we work and where our strengths and weaknesses lie.
A big thank you to everyone who participated in the event. We are already looking forward to planning the next event. This time in Leipzig. And hopefully with more people participating.