While server-side or on-premises solutions used to be in the foreground, today's tools mostly run in the cloud and are offered as SaaS products. Expensive server rooms and hardware are thus a thing of the past. Many of these tools already offer the advantage for small teams that they are often offered free of charge in their basic function. Teams can simply register and get started. It only becomes problematic when it comes to security issues with cloud solutions.
The following questions arise more and more frequently:
Can I store my data in the cloud without further ado?
Does only my organization have access to my corporate data?
Are the tools data protection compliant (DSGVO, GDPR)?
Where is my data stored?
How expensive are cloud project management tools for larger teams?
Can I implement my workflows in these tools?
In 2021, these questions can often be answered easily and satisfactorily. So there is usually nothing standing in the way of migrating your project management.
Modern project management tools do not have to be expensive
In project management, you work on new tasks every day. As a project manager, you need to keep track of your resources, document project progress, manage responsibilities, organize your team and set priorities. The functional scope should therefore already contain the most important aspects, such as planning, task management, collaboration of your teams, time tracking, budget and resource management and reporting.
The question you end up asking yourself is "what tool is best for this".
Of course, the price of the project management tool also plays a major role.
Jira Software, Asana or Monday.com are in their basic function and for small teams of about 10 people inexpensive or even free and can be easily integrated into your existing system. Extensive enterprise solutions, on the other hand, can quickly blow up your budget.
Below we have taken a closer look at three of the most popular project management tools.
Jira Software from Atlassian
Jira is great as a project management tool. It is currently available as Cloud version usable with external hosting (e.g. AWS or Azure) or natively on Atlassian. Both versions have a similar range of functions, although a large number of extensions (plugins) are currently (as of March 2021) only available for the Data Center version.
However, the roadmap for Jira for the coming years already foresees that all Atlassian partners make their plugins ready for the cloud. Currently, there are already thousands of integrations and plugins that extend the functionality of Jira.
Jira Software for Cloud (Native) provides you with all the common features you already know from your previous project management.
Features of Jira:
Kanban boardsWork completely visually and keep a complete overview of the project progress, tasks and complete your project quickly and efficiently.
Scrum BoardsYou use agile working methods like Scrum? Focus on your software development with customizable Scrum boards
Roadmaps: Keep track of your project and share your insights with stakeholders and coordinate project planning with your teams' tasks.
Agile reporting: Create personalized reports with real-time information in just a few clicks.
Process automationWith Jira you can easily automate and digitize your most common business processes (e.g. application processes, ordering processes).
Drag-and-Drop: Easily change the status of your tasks by dragging and dropping them into Kanban boards.
IntegrationsDo you use other SaaS tools besides Jira, such as HubSpot, Mailchimp, Slack, Google Drive or Git? You can find thousands of cool tools in the Atlassian Marketplace
Custom Code: Have special requirements in your project management tool, process digitization or task management? You can also extend Jira with your own code and customize it to your needs.
In Jira, you mainly work with assigned tasks. These are grouped together in one place, along with summary, comments, attachments, priority, and status. This makes it straightforward to work on tasks. The cool thing is that whenever a factor of a task changes or you get a new task assigned, you get a notification. Jira is a tool that not only simplifies your project management, but also supports you in all kinds of tasks.

Jira - Simple project management in IT and beyond
Want to know how Jira can be used in project management?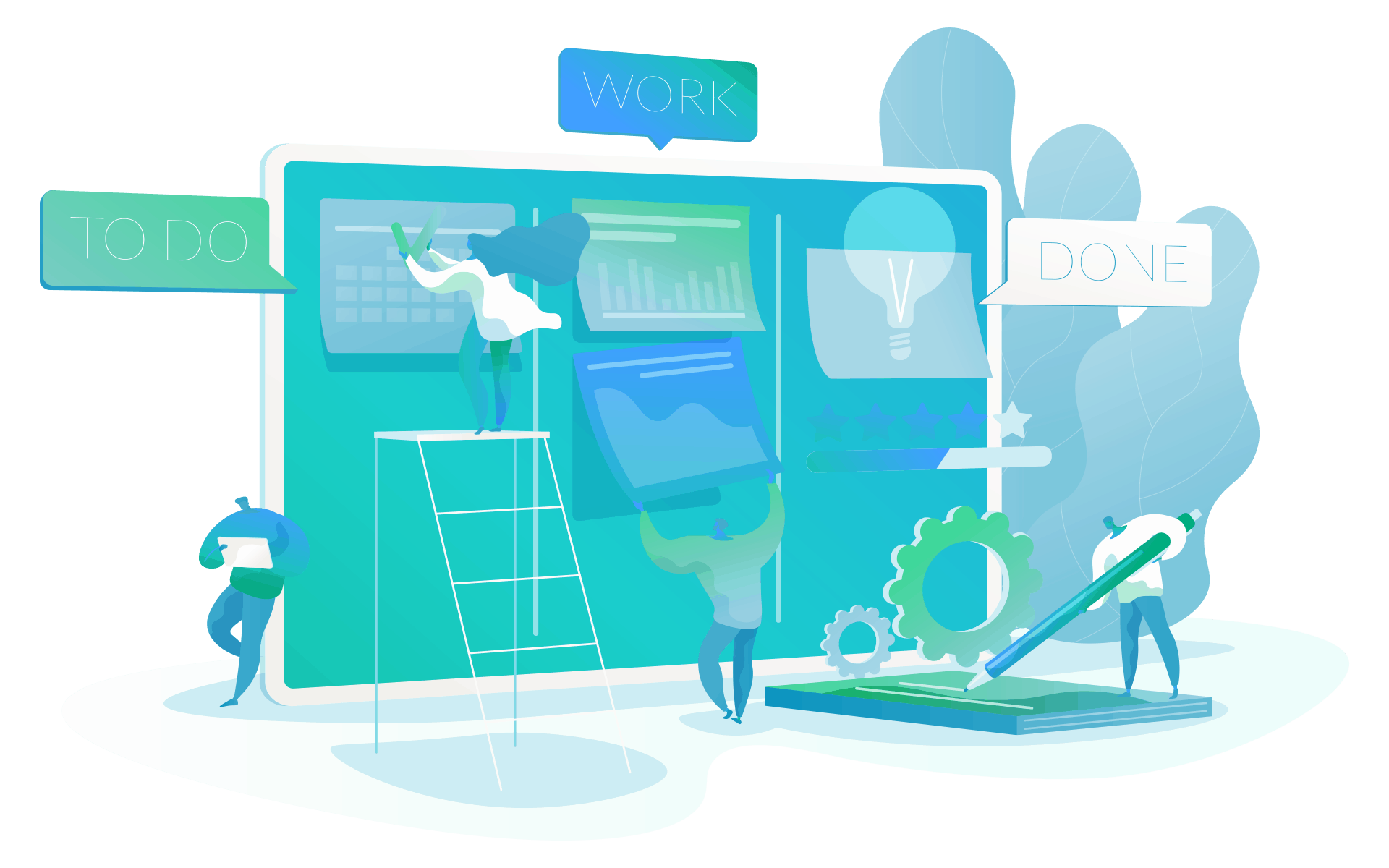 Asana
Asana is simple and already offers some great features out-of-the-box and is great for small, specialized teams. Task management, Kanban boards, timeline and automations are quite easy to suspend.
With Kanban boards you can visually represent your projects. With the schedule tool you can see directly how far your projects have progressed. And with the integrated service desk form for your website, you can easily process requests for your products and share them with your team.
Asana also offers you the possibility to expand the range of functions with integrations. For example, you can link your Google Drive or Dropbox or Slack directly with Asana. This way, all your important data is directly available in the app and you can collaborate with your team even better.
Another great feature of Asana is that you can easily track the progress of individual tasks. This makes it possible to visually display the status of individual tasks in real time. And you are always up to date if there is a problem at any point.
Monday
Asana was already simple, but Monday.com is a whole lot easier to deal with in terms of usability and user experience. Monday has the great advantage that the platform is suitable for a range of teams, working methods and departments.
Besides the standard project management tools like task management or planning, Monday offers your teams the possibility to efficiently and effectively plan all tasks. However, the focus is explicitly on the easy collaboration of your teams directly on the platform. All conversations, briefings and data are stored in one central place. This saves the user additional meetings, emails and long phone calls.
Besides the common integrations like Slack, Google Drive or Dropbox, Monday offers few extension options. However, it should be noted that Monday.com provides countless templates for scenarios and use cases that you can activate and use with just a few clicks.
Summary: Project management tools in comparison
All three project management tools offer similar functionalities. Jira from Atlassian is the tool with the most plugins and integrations and offers the possibility to customize it exactly to your needs.
Asana and Monday.com on the other hand are simply tools for small and medium teams that want to get started right out-of-the-box. However, special use cases and custom features are not possible with them.

Jira - Simple project management in IT and beyond
Want to know how Jira can be used in project management?