The shift to the cloud is unstoppable. By the end of 2020, it is estimated that 83% of all global enterprise workloads will already take place in the cloud. And this is expected to increase in the coming years.
In the early 2020s, this effect was amplified due to the COVID 19 pandemic. Companies were partly forced to give their employees the possibility to work remotely. Company data, workflows and apps had to be available at any time and any place.
"9 out of 10 of all new Atlassian customers prefer a cloud solution over an on-premise (server) solution."

Source: Atlassian
But availability is not the only reason to move to the cloud. Security, sustainability, agility, scalability and cost efficiency are all factors you should consider when migrating to the cloud.
Read now our 5 reasons to the cloud.
Scalability of (Atlassian) Cloud Solutions
Businesses, teams and apps grow, and so must your IT and server capacity. Imagine your team grows by 200 people in a few months, you sell 10x as many of your products or services in a short period of time. You chalk it up as a "win" of course, but your IT and team are probably struggling badly in the process. And so an on-premise solution quickly reaches its limits, demanding ever-faster update and upgrade cycles. Ultimately, this is not only costly, but also means your team has less time for more important tasks (e.g. IT security).
So you need a technology that scales automatically as needed. This is where cloud solutions come in. They allow you and your business to access flexible and adaptable services without having to constantly worry about costly and manual upgrades.
More revenue and lower admin costs by moving to the cloud
Servers, hardware and maintenance are expensive and a major cost factor within your company. Your IT needs to be renewed at regular intervals to ensure your competitiveness. However, even a move to the cloud, means that costs occur in the form of monthly and annual fees. Especially in the short term, migrating to the cloud is more costly than your proven on-premise solution. In the long term, through cloud native mapping of your infrastructure and services, you will realize that the cloud is the far more cost-effective choice.
"Basically, it can be assumed that by migrating to the cloud, you will have a cost saving of about 30% in the long run."

According to a study by Office 365.
While with on-premise solutions the obvious costs such as hardware / hosting costs and license fees are far lower than subscription and admin costs, the hidden costs with on-premise are a reason to use cloud solutions in the long term. Costs for IT security, upgrades, performance, maintenance (and more) only become visible over time.
More performance and speed through cloud migration
42% of IT professionals say network performance is one of the top reasons to move to the cloud. But not only that. Availability and speed play a big role, especially in the SaaS (Software as a Service) sector. Retaining customers over the long term and ensuring that users can use your service without interruption is easier with a decentralized solution than with a local one.
Imagine you are using one of your GoTo apps to do your work. And just at that moment, their server crashes because too many users are active at the current time and the server capacity is no longer sufficient. You are then probably visibly annoyed and decide to stop using the tool and the provider loses you as a customer.
A 24/7 with 99.95% guaranteed uptime and availability without performance degradation can be achieved far more easily by migrating to the cloud. So if you find yourself in a situation where your services and apps need to be available at all times, the distributed cloud can drastically reduce your risk.
Exclusive whitepaper for IT professionals and remote teams (available in German)
Cloud migration: Eight cloud myths under the microscope
From data security to system performance. XALT has analyzed the most common misconceptions about move-to-cloud for you.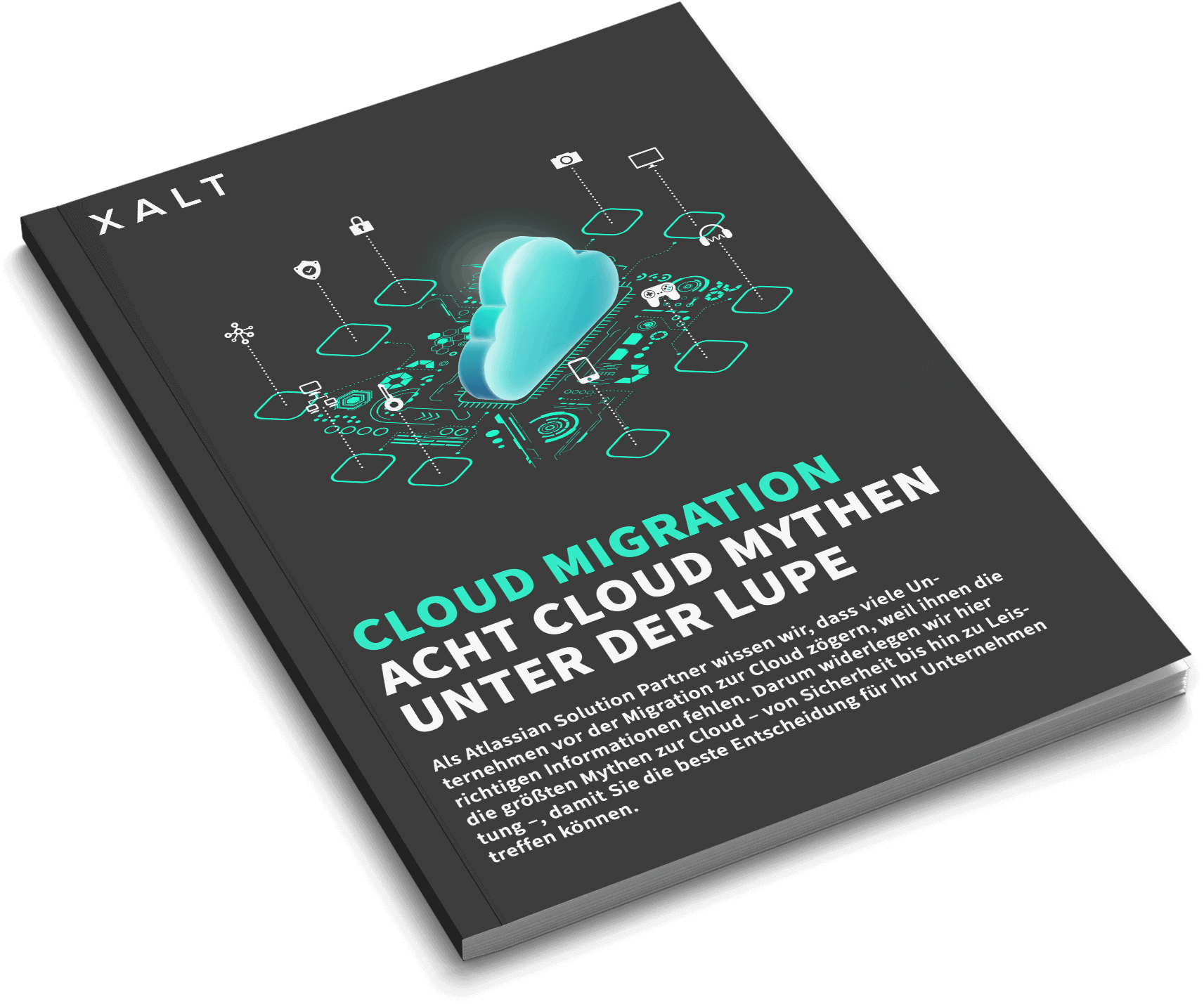 Improve the productivity of your teams
Nearly 80 % of IT pros say moving to the cloud has improved their productivity (source: Office 365), and according to Stanford, teams that work remotely and use cloud apps are about 13% more productive than similar teams. But what are the reasons moving to the cloud improves your teams' productivity?
Fewer to-dos on the agenda of your IT teams
ToDo's like maintenance, upgrades or updates become secondary tasks and need to be monitored less by you. This leaves more time for more important tasks. Your IT team can then focus on issues such as security, user and access management, or the overall setup of your organization, which will drive your business forward and add value within your organization.
"It's important for our engineers to focus as much as possible on the things that are unique to our business, not on running a ton of infrastructure."

- Mike Curtis, Airbnb VP of Engineering
In general, it can be said that most IT teams spend part of their working day on tasks that do not directly add value to the business.
The cloud helps your team collaborate
Many companies and teams are often supra-regional, international and separated by floors. It can be a big challenge to know about all current projects and tasks. By migrating your workflows to the cloud, however, this is a thing of the past and not only promotes communication among each other, but also creates transparency, promotes productivity and performance.
Teams from different departments, whether marketing, development, product management or engineering, can access the same systems simultaneously and exchange information with each other.
The cloud is part of the future, are you?
It's hard to imagine the modern enterprise without the cloud. And that doesn't even include your own enterprise cloud. And think about it; your teams are mostly using cloud-based apps and tools to simplify their daily work without the knowledge of your IT department. These so-called. Shadow-IT usually accounts for up to 98% of all apps used.
So the question you should be asking yourself is, are you and your business? So become a part of the future and start using cloud-based systems today not only to stay competitive, but also to save costs, increase your team's productivity and simplify your employees' daily work and workflows. Furthermore, migrating your business to the (Atlassian) cloud also allows you to fish from a much larger pool of talent that may not be based locally, but are ready to become part of your team remotely.
The benefits of a cloud are therefore not only in IT, but affect your entire company. Want to learn even more about the opportunities of migrating your business to the cloud? Download our whitepaper: 5 reasons to move to the cloud.
Exclusive whitepaper for IT professionals and remote teams (available in German)
Cloud migration: Eight cloud myths under the microscope
From data security to system performance. XALT has analyzed the most common misconceptions about move-to-cloud for you.